How's that New Year's resolution you made about taking better care of yourself going? You know — the one where you were going to eat more kale, drink less booze, be more physically active and dial your Netflix-and-chill approach to your free time waaay back?
Whether you're acing it or need a little encouragement, planning a wellness holiday to British Columbia might just be the perfect way to sustain or kickstart your new lifestyle. Its relatively mild climate and laidback vibe help, but it's the province's sheer breadth of experiences — luxury hotel spas and urban oases in Vancouver, oceangoing adventures in Victoria and the wide-open bucolic spaces of the Okanagan, to name but a few — that help make it one of the best places in Canada in which to feel revitalized. Here are 11 standout wellness experiences to try on your next trip to Lotusland.  
Floating yoga
Put your balance to the test by stepping onto an Aquamat for a yoga class that'll have you floating on the Westin Bayshore Vancouver's stunning waterfront outdoor pool, which has views of the nearby mountains. Offered throughout the summer, these classes will help sooth your mind while offering a new kind of physical challenge. In the fall and winter months, classes take place in the hotel's indoor pool. Hotel guests, $25 per session; non-guests, $30 per session. 
Culinary buzz
Treat your palate to some delightful flavours from locally-sourced ingredients at the Westin Bayshore Vancouver's H2 Rotisserie & Bar, including honey collected from the hotel's on-site apiary. The apiary is part of a wider trend that has seen a tasty new wave of culinary excellence make its way across British Columbia as more restaurants shift their focus to the freshest local ingredients, craft beers and wines. Along with H2, some of these establishments include LURE Restaurant & Bar in Victoria and OAK + CRU in Kelowna.
Seasonal cooking classes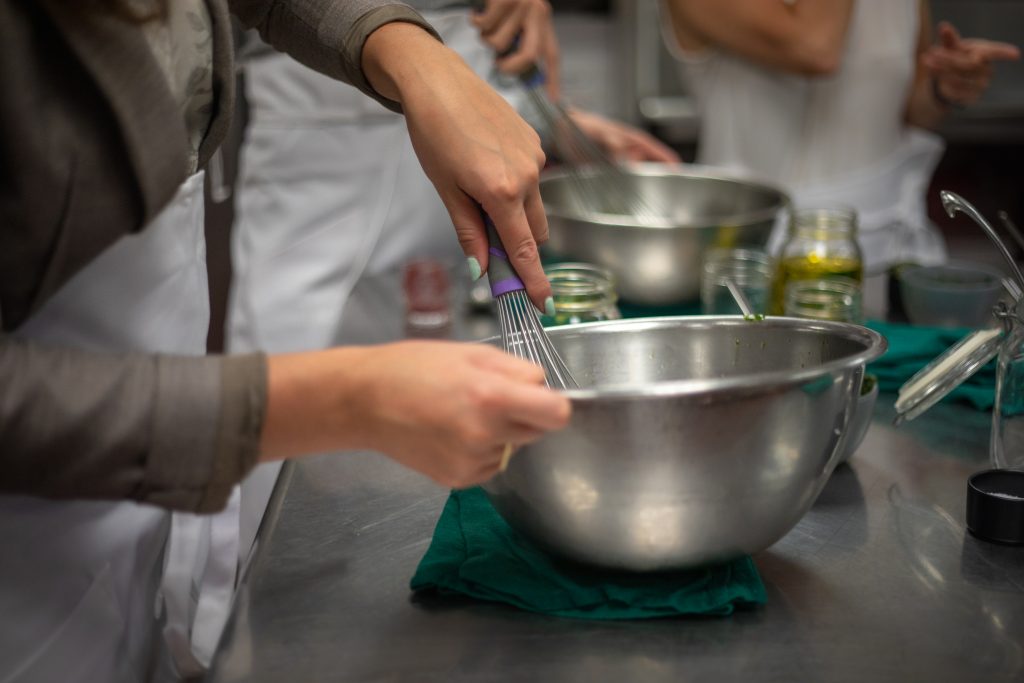 If you crave a more hands-on approach to your meal, grab some friends or coworkers and join one of H2 Rotisserie & Bar's seasonal group cooking classes, traditionally offered at Thanksgiving, Christmas and Valentine's Day. Chef Caitlin Mark will show you techniques and recipes to impress your loved ones at your next dinner party. 
Parq it
The Parq Vancouver is a luxury resort situated between the vibrant neighbourhoods of Gastown and Yaletown in Vancouver's West End. It features two hotels on one lot: the JW Marriott Parq Vancouver and The Douglas. The Parq Vancouver was built using as many materials native to Vancouver and British Columbia as possible, including Douglas fir trees and North Shore rock. Much of this can be found in the nearly 2,800-square-metre park that connects the two hotels on the sixth floor. The park contains more than 200 native pines and 15,000 local plants, set among a water feature and walking paths that help bring nature into the city. 
A superior spa
Indulge yourself with a treatment at the Spa by JW in the JW Marriott Parq Vancouver hotel. Opt for one of the five beautiful treatment rooms or experience tranquility alongside your partner in the couples room, which has breathtaking views of the city. The spa offers guests treatments tailored to their individual needs, centred around one of four results: calm, indulge, invigorate and renew.
Sunset views
Get your pulse up with a jog along the famous seawall trail just blocks away from the JW Marriott Parq Vancouver, then unwind with a rewarding sunset view in the rooftop whirlpool. 
Victoria by land
After arriving in Victoria from the mainland, stretch your legs and explore downtown. A number of trails and bike routes of varying degrees of difficulty and length are available for riders of any fitness level. Discover the shops, museums and the provincial legislature buildings, or lock up your bike and take a stroll down Fisherman's Wharf, with its floating homes, shops and restaurants.
Victoria by sea
When you peep the view from the Delta Hotels Victoria Ocean Pointe Resort, which overlooks the harbour in Victoria, you may find yourself yearning to hit the open water and breathe the fresh ocean air. Fortunately, Victoria Kayak Tours & Rentals can set you up with a boat, tour you around the harbour and take you out along the provincial capital's rugged coastline. Along the way, you'll learn about the city, watch seaplanes land in the harbour and spot wildlife such as seals, otters, birds and — if you're lucky — maybe even a whale. 
Count the kilometres in Kelowna
Knox Mountain Park has to be the most popular place in Kelowna for locals to go running, cycling or just walking, and for good reason. Just minutes from downtown, the park's 12 kilometres of trails include the popular Paul's Tomb Trail, which follows the shore of Okanagan Lake to a small beach. If you're after something a bit tougher, hike to the peak's summit and get stellar views of the lake from 300 metres above its surface. One of the best places to recover from all that exercise is at the Delta Hotels by Marriott Grand Okanagan Resort, whether via an "Okanagan Serenity" massage at the resort's spa or a meal and some top-notch British Columbia wines at the aforementioned OAK + CRU. 
Myra Canyon's treasured trestles
Cycle, run or walk the 24-kilometre round-trip trail that criss-crosses Myra Canyon via 18 wooden trestles. Built by hand at the turn of the last century for the Canadian Pacific Railway and restored after a forest fire destroyed them in 2003, the trestles reward visitors with magnificent views. A bike tour with Monashee Adventure Tours is a great way to learn more about the canyon's rich history.
Raise a (wine) glass
You didn't think we'd actually skip wine in this little roundup, did you? With more than 200 wineries in the Okanagan Valley, and more than 40 in Kelowna itself, it can be difficult to pick where to start your journey in one of the top wine regions in the world. Many of the wineries also act as restaurants and hotels (Quails' Gate is a good place to start if you're looking for the wine-meal-sleep trifecta), but you can also opt for one of the five different wine trails or take a customized tour.