Accommodation becomes instantly memorable when we experiment with something … a little different. It's more than a bed and a bathroom, it's an experience! Here's a roundup of some of the most unique hotels in Canada.
Note: Some properties might have limited or suspended operations due to the ongoing challenges of COVID-19. 
Lighthouse hotels
The Tower Room and Keeper's Quarters of the West Point Lighthouse in Prince Edward Island is located on the second floor of the tallest lighthouse in the province, built in 1875. Lighthouse guests enjoy sweeping views of red sandy beaches and the Northumberland Strait. There are only two guest rooms in the iconic lighthouse itself, with more contemporary accommodation in the adjacent inn. Over in Newfoundland's Iceberg Alley, Quirpon Lighthouse Inn offers 10 lovely rooms in the still-operating lighthouse, dramatically perched on a deserted island facing the Atlantic. Expect magnificent iceberg viewing, whale watching, traditional meals and powerful ocean waves. Boat transfers to and from The Rock are included.
Sleep in a sphere
There's fine Feng Shui sleeping in a circular dome, whether you're suspended from a tree or listening to the patter of rain. Consider the striking, futuristic Free Spirit Spheres located north of Nanaimo, B.C. on the east coast of Vancouver Island. The Luna, Melody and Eryn spheres look like floating forest marbles. All are accessed by suspended boardwalks, feature five windows, heating, living and sleeping areas, and an utterly unique design. Over in New Brunswick, the Skyview and Dream Domes at Ridgeback Lodge promise oodles of natural light, all-season comfort, kitchenettes, and a romantic, memorable orb-shaped experience.
Survive a stay in an ice hotel
A night in Quebec City's Hôtel de Glace is unforgettable, but not exactly easy. A clue is the fact that each reservation includes a hotel room booked in the nearby Hotel Valcartier. Carved anew by ice artists each year using 500 tons of ice and 40,000 tons of snow, ice hotel rooms are open for public viewing during the day. In the evening, paying guests are instructed how to stay warm and avoid becoming a popsicle: heat up in the hot tub, put on your long underwear and coat, get into your thick sleeping bag quickly, and pray you don't need the bathroom located in a heated common area. While it is certainly magical, spending a night in a -5 °C ice box is also an exercise in survival. Those fireplaces exist for ambiance, not heat. If the cold gets to be too much, you can simply relocate to your traditional hotel room. 
Polar bear bonanza
Accommodation options are understandably limited on remote permafrost patrolled by dozens of hungry polar bears. This is why 40 guests on Frontiers North Adventures' Tundra Buggy Lodge are more than happy to bunk up for a few nights on the long, narrow, train-like lodge. Roving Tundra Buggies dock on the lodge for sightseeing day trips, or you can just hang back and watch bears sparring from the panoramic windows of the lounge or dining room. Throw in individual berth heating, hot showers, fine meals, great company, and fascinating evening wildlife presentations, and the lodge feels like a stationary train on wheels, which only adds to the surreal experience of sleeping among the largest land predator on Earth. Note: The only way for travellers to stay at the Tundra Buggy Lodge is to book onto one of Frontiers North's multi-day package trips in the autumn polar bear season. 
Get groovy in a 70s-themed hotel
A bright pink restored VW van sits off the highway into Tofino, B.C., boldly announcing an innovative hotel that strives to resurrect the quirky trends of the 1970's. Entering North America's first bike-through lobby – part of the six-kilometre multi-use lane connecting Tofino to the popular beaches – I instantly spot Hotel Zed Tofino's antique wall clocks, knitted macramé, sunken lounge, and the most audacious lime green shag carpet this side of Austin Powers' private jet. There's also an authentic arcade, a disco room with a lighted floor, rotary dial phones, authentic 70s-era furniture, and rooms with a distinct retro designer's touch. It all amounts to a tasteful celebration of a bygone era, and a rather fun place to park oneself in Vancouver Island's trendiest destination.
Spend a night in jail
Here's a great story about the night you got locked up, and kept your criminal record clean.  Ottawa's HI Prison Hostel is the former Carleton County Gaol, site of the last public hanging in Canada, and a prison so brutal it was closed due to cruel and inhumane treatment of prisoners.  Today it's a backpacker's hostel, which tells you everything you need to know about budget travel. Take a late-night ghost tour of Death Row, learn about the prison's notorious history, grab a beer, meet some travellers, and then lock yourself into a cell for the night. The vaulted ceilings were designed to capture every prisoner's whisper, so you'll likely hear weird noises in the middle of the night. Handy tip: ghosts are allergic to cameras, so make sure your batteries are charged.
Choose a different sort of room
Many hotels market the fact that every room is different, but Edmonton's Fantasyland really means it. Located within the West Edmonton Mall, guests can choose from a dozen themed rooms or suites, including Space (with two capsule beds), Roman, Polynesian, Truck, Sports, African, Pirate, Igloo and Princess. Less kitschy is Toronto's Gladstone House, which feels like a hipster artist colony. When I stayed there years ago, I felt like I was sleeping inside an artist's head, complete with erratic brush strokes across the exposed red-brick wall. "Newly re-imagined" rooms are reassuringly more familiar, but still feature original local artwork and a fun, creative use of space. 
Sleep on a stationary train
Technically, the sleeper berth on VIA's iconic Canadian could qualify as a hotel, but this particular list prefers a stationary hotel, which brings us to Tatamagouche, N.S. The Train Station Inn features luxury suites in authentic vintage cabooses and railcars, located on a former rail bed that now forms part of the Trans-Canada Trail. As for dining, look no further than the fine Dining Car, built in 1928, or snacks in the Jitney Café. Summer attractions include bar service on the platform, and live music twice a week. 
Sprout dreams in a grain bin
Ever driven through the prairies and wondered what it would be like to sleep in a grain bin?  Thanks to Alive Sky Lodge, we're in luck. Located an hour from Saskatoon, let's spend a couple of nights in the BINcredible Luxury Grain Bin, which features a romantic hot tub, a fireplace-lit bedroom/bathroom, and breakfast delivered to our door. If the kids are with us, we can book the Boho Two-Story Bin, which offers a prairie vista, 'hippie vibe' and ship-ladder to an upper deck to accommodate six guests.
Crash in a pod
Chic high-season ski lodges are fun, until you get the bill. Whistler's Pangea Pod Hotel asks: what if you only pay for the spot you actually sleep in? They've re-imagined the hotel experience into private sleeping cabins that offer deft touches, such as USB chargers, private lockers, climate control, mirrors and mood lighting. Spotless, stylish bathrooms are split into individual components to increase efficiency, and communal living, patio and dining spaces encourage social interaction. Pangea is not quite a hotel, and not quite a hostel, allowing guests to spend more time on the slopes, and less on their budget.
Channel your inner Frodo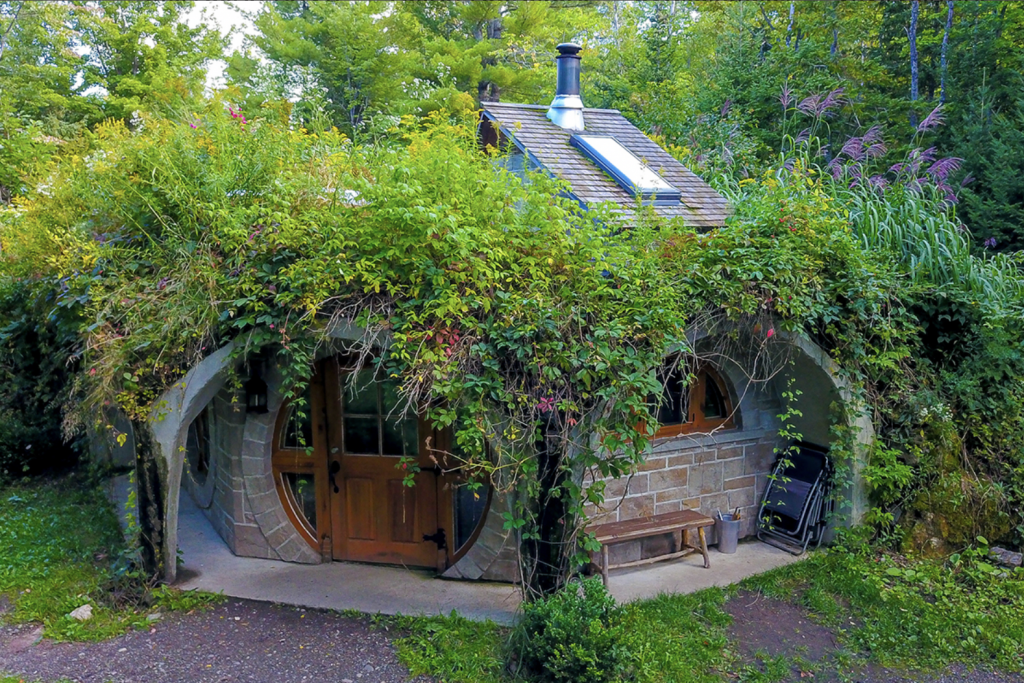 An hour outside of Montreal is the family-owned, 175-acre Entre Cîmes et Racines. The property features 14 different eco-lodges, and to conclude our epic quest, I'm drawn to three distinct, Tolkien-inspired troglodytic cabins. Le Hobbit, The Lord of the Woods and The Firestone blend into the landscape, complete with landscaped exteriors, circular doors, and tiny chimneys. Each lodge is off-grid and rustic, which means fireplaces and candles, bring-your-own-bedding, and compost toilets, just as Frodo and Bilbo would like it. Who said there was plumbing in Hobbiton?