The one-of-a-kind capital of Cuba celebrates 500 years of history on November 16. Originally named San Cristobal de la Habana by Spanish colonists in 1519, Havana has long been considered the crown jewel of Cuba by visitors from all around the world, many of them from Canada (almost one million in 2019). And why not? It's safe, it's authentic, and there is so much to do in and around the city. In 2016, Havana was declared one of the world's seven "wonder cities."
These days, there are more reasons than ever to fall in love with Havana, including its culture and history. Here are just five.
The vintage vibe
La Vieja Habana—Old Havana—was designated a UNESCO World Heritage Site in 1982, thus preserving the incredibly unique and colourful structures that wait around every corner. You can find examples of Havana's famous architecture, much of it baroque-style, down every cobbled, column-lined street. It's a city full of nostalgia also, thanks to the beautifully-preserved mid-20th century cars that cruise the Malecon. Check them out while strolling this famous eight-kilometre stretch of roadway and seawall, or take in the Malecon's breezy seaside and beautiful ocean-blue view from the back of a vintage set of wheels.
The digs
There is a range of accommodations for any budget in Havana, but as part of marking 500 years, the city has also been celebrating its cultural and historic heritage by welcoming new hotels into restored colonial buildings. The luxury hotels giving new life to these grand, breathtaking spaces include Gran Hotel Manzana Kempinski, originally built in the 1890s (and now with a lovely rooftop pool and restaurant); the soon-to-open Sofitel Paseo del Prado Malecon, at the corner of the famous Malecon Blvd. and Prado Blvd.; the Iberostar Parque Central, with its vibrant, live-music-filled lobby; and the National Hotel de Cuba, a symbol of the hospitality in Cuba.
The food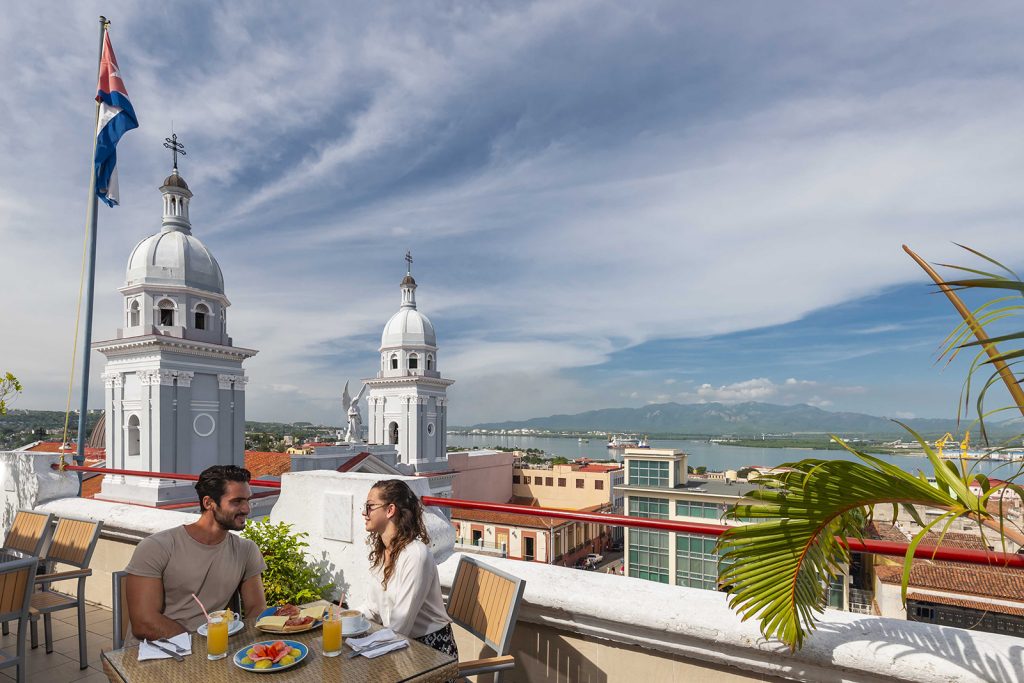 There are many good dining options in Cuba. The service is impeccable everywhere—especially at the top hotels. If you prefer something a little more down-to-earth but just as delicious, the paladares give you the opportunity to experience authentic Cuban food. Cuba has adapted the term to describe the many family-run or independent restaurants that have popped up all over Havana in recent years. La Cocina de Lilliam, one of the original paladares, offers grilled lobster or lamb stew in a setting of lush gardens complete with fountains. Or, near the waterfront, enjoy private rooftop dining at the restaurant La Moneda Cubana, where the specialty is vaca frita—a dish of flash-fried shredded beef that's crispy and tender all at once.
The nightlife
You don't need to go to a club to hear music — there is music all around you on Havana's historic streets — but if you're looking for an exciting night out, there are many indoor venues to choose from. A top choice is the large, atmospheric Buena Vista Social Club, where you can experience the golden age of Cuban music, an important part of this country's identity. Musicians belt out rhythms including salsa, bolero, rumba, and the unique guaguanco as mojitos and Cuba libre are served by the trayful. If you're looking for something a little different, check out the intimate venue La Zorra y el Cuervo, famous for hosting top jazz musicians who perform there every night.
The beaches
One word: Varadero. It's consistently voted among the best beaches in the world; it ranked #2 this year in TripAdvisor's Travellers' Choice Awards. Cuba is much more than beaches—there's culture, history, eco-tourism—but Varadero is a must-see. Just a 2.5-hour drive from Havana, this gorgeous 20-kilometre peninsula with endless blue horizons is a magnet for swimmers, windsurfers and snorkelers. You can take a catamaran excursion, have a day out fishing or go diving. But many visit Varadero simply to stroll the pristine sands and then relax with a rum cocktail in hand, to soak up the beauty.
This article is sponsored by the Cuba Tourism Board.