It's hard for us here at Canadian Geographic Travel to be tethered to our desks (wherever those might be these days!). So many of the stories we share here are based on our personal and work travels, and those of our network of adventurous writers, and we're simply not wired to stay in one place for too long. 
Since we can't go on any new travels these days, we're trying to tell new stories that reflect the realities of our changing world while still encouraging our readers' thirst for discovery. Fortunately, many of the tourism boards we work with in Canada and around the world have pulled together compelling ways to experience their destinations virtually. If you follow us on Twitter and Instagram (and you should), you'll have seen us sharing some of these "virtual vacations." We've compiled some of our favourites here, based on our past experiences and personal bucket lists. 
Have you found a virtual escape that's worth knowing about? Share it with us in the comments! 
Michela's picks
Philadelphia
When I visited Philadelphia a few years ago, I expected great food (hello, Philly cheesesteak!) and plenty of history. And I definitely found them in the City of Brotherly Love, but I also discovered an inspiring and, frankly, offbeat art scene. The Barnes Foundation, Michener Art Museum and Institute of Contemporary Art are some of the most impressive and unique art galleries in the United States, but Philly also has a wealth of public art available completely free of charge. Since travel is out at the moment, as is loitering in public spaces, take this virtual tour of some of the top public artworks around the city. Then, head over to the Barnes Foundation's YouTube channel for a series hosted by the museum's curators, scholars and educators on their favourite works in this unique collection.
Montreal
Heart-thumping nightlife, awesome shopping, some of the country's best restaurants, big summer festivals and Cirque du Soleil – there are a ton of reasons why I love to visit Montreal. And while going to a club or sitting down to a meal at a swanky restaurant might not be in the cards at the moment, Cirque du Soleil is offering a number of online experiences through CirqueConnect, including hour-long specials featuring highlights from current shows and 180-degree virtual reality videos that take you backstage for training and makeup and then onstage for exclusive performances. There's even a weekly Cirque du Soleil workout series to get you acrobat-fit!
Michela Rosano is Can Geo Travel's associate editor.
Aaron's picks
Churchill, Man. 
When I share tales of my visit to Churchill, Man. a couple of years ago (you really do walk on the tundra mere metres from the apex predators!) people usually seem a bit skeptical. That is, until I show them the photographic evidence. Fortunately, Churchill Wild (the company I traveled with) also has a number of great videos on its website that show just how amazing the experience is — either simply for your viewing pleasure or as inspiration for a future trip of a lifetime. I did the Great Ice Bear Adventure, but you can see videos from all their tours here. I told you so!
Palm Beaches, Fla.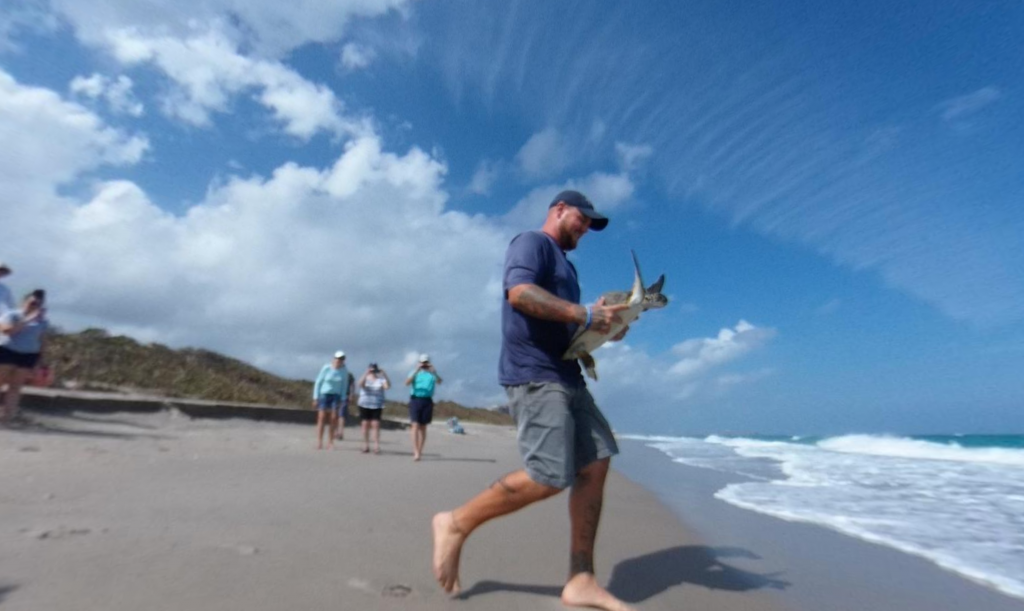 Canadians have long made Florida's original resort region a favoured destination. And while Canucks can't literally paddleboard the intercoastal waterways, play a round at PGA National Resort and Spa or snorkel at Lake Worth Lagoon right now, there are a couple of amazing local attractions you can experience virtually. One: check out the super 360 virtual tours of the Loggerhead Marinelife Center, a sea turtle research, rehabilitation, education and conservation centre in Juno Beach (bonus: there are great learning resources for kids at home on its website, too). And two: take a virtual tour of the palatial Henry Morrison Flagler Museum, the home and estate of its namesake famed industrialist. After its completion in 1902, the New York Herald said it was "more wonderful than any palace in Europe, grander and more magnificent than any other private dwelling in the world."
Aaron Kylie is Can Geo Travel's editor-in-chief.
Alex's picks
New York City
Before New York City became the global epicentre of the COVID-19 pandemic, my husband and I had been excitedly planning a visit as a last hurrah before the birth of our first child. Instead, we'll be enjoying our Big Apple "babymoon" from the comfort of our couch thanks to Virtual NYC, a collection of digital experiences and attractions compiled by the city's tourism board. We'll take a virtual walk across the Brooklyn Bridge from Brooklyn to Manhattan, check in on the animals at the Bronx Zoo via their video clips and live webcams, drink in the incredible city views from the top of the Empire State Building, and, in the evening, take in a performance by the New York City Ballet. Another highlight for this musical theatre geek? The New York City Centre theatre's Encores! Archives Project, a song-a-day video series celebrating the theatre's revivals of lesser-known hits. Many of Virtual NYC's offerings are free thanks to donor support; if you like what you see, consider making a contribution to help the city in its hour of need.
Vancouver
I visited Vancouver for the first time last fall, but feel like I barely scratched the surface of this unique city in my all-too-short three days there, so it's been fun to keep exploring via Vancouver Tourism's online suite of activities and offerings. Nature is a big focus — free standouts include this 360-degree tour of the Greenheart TreeWalk at the UBC Botanical Garden and the Grouse Mountain Bear Den Cam, where you can watch resident grizzlies Grinder and Coola emerging from their hibernation. If you have some spare cash and are serious about getting to know the flora of the Pacific Northwest, consider booking a two-hour virtual foraging lesson with expert and chef Robin Kort of Swallowtail Culinary Experiences. Or, if a craft beer crawl would normally be more your style, set aside a Thursday evening for one of the B.C. Ale Trail's "Virtual Hoppy Hours," featuring special guests from the province's beer community.  
Alexandra Pope is Can Geo Travel's digital editor. 
Angelica's picks
Michigan
I was born and raised in Windsor, Ont. — just a hop, skip and a jump from Michigan. Right now, being unable to spontaneously pop by the Henry Ford Museum or catch a Tigers game is driving us border-dwellers absolutely insane. Instead, I'm enjoying border life virtually. Pure Michigan, the travel bureau for the state, has create #VirtualPureMichigan so you can visit beaches and butterfly gardens, take a look at Frankenmuth or the Mackinac Bridge and stop by the Michigan Science Centre or Henry Ford Museum. There's even a 360-degree guided virtual paddle into the St. Mary's River in Sault St. Marie. While you're out on the water, try the Bridge and Dam tour in Manistee or tour one of the Traverse City lighthouses. Craving something in the arts scene? Take in a concert on demand by the Detroit Symphony Orchestra.
Northwest Territories
Ahead of the COVID-19 curve, the Northwest Territories actually launched a virtual tour campaign in January 2020, offering everyone the opportunity to see the iconic Virginia Falls in Nahanni National Park up close. As the six-kilometre hike was already high on my bucket list, this really caught my attention. The Northwest Territories 2020 guidebook and downloadable app allows people to view impressive scenery, like the falls, through augmented reality. In addition to the falls, guide users can wander NWT trails, watch the northern lights and follow caribou on their migrations. The app and its gorgeous content now provides an almost-weekly reprieve from the four walls of my dining room where I've set up my home office. 
Angelica Haggert is Can Geo Travel's social media editor.