As Calgary's culinary landscape expands to keep pace with its population growth, the city is becoming a hub for surprising sips, offbeat eats and immersive arts. Here are two different ways to experience the sophisticated side of the new Wild West.
Culture
By Shelley Arnusch
EAT  Calgary has a bona fide culinary scene but, understandably, more than a few visitors to a place colloquially known as "Cowtown" want to get themselves a proper steak in an authentic steak house. It doesn't get much more authentic than Caesar's Steak House. Pushing five decades in business, the downtown institution has long been the go-to for oil execs celebrating big deals, and pulling up a dark-red-leather-upholstered seat here also puts you in the company of Brad Pitt, Robert Duvall and countless other celebs who have passed through.
STAY  The first thing you need to know about Hotel Arts, the 185-room boutique hotel that anchors the inner-city Victoria Park neighbourhood, is that its name isn't just lip service. From Joe Fafard's cow sculpture Rita to Barry Fairbairn's whimsical glassworks adorning the ceiling of the entryway, the hotel's lobby is a contemporary art gallery in its own right. The hotel is also mere blocks from several of the city's artistic institutions of note, including Arts Commons, the Glenbow museum and Studio Bell, home of the National Music Centre.
PLAY  The rolling foothills just southwest of the city limits are where you'll find the Leighton Art Centre, a gallery and museum created out of the home and workshop of the late artists A.C. and Barbara Leighton. Key figures in the art history of Alberta, the Leightons' legacy provides visitors with the stunning view of the Rockies depicted in so many of A.C. Leighton's celebrated landscape paintings.
Cocktails
By Alexandra Pope
EAT  A relative newcomer to the bohemian Inglewood neighbourhood, Gorilla Whale serves up "Japanese-ish" cuisine in a hip, casual setting. The playful decor — think stuffed Pokémon toys and colourful vintage rock concert posters — hints at what's to come. On the menu, ramen and yakitori live side-by-side with more offbeat creations, such as the PB & J foie gras with lemon-almond butter and passion-fruit sauce. On the "dranks" side of the equation, cocktails put sake in the spotlight. The Paper Crane, a fruity, spicy concoction built around a base of gin, sake and Bénédictine D.O.M. liqueur, is a perfect complement to the umami "gorilla rice," a hearty bowl of you-know-what topped with salt craft mortadella, crispy soy beans, edamame, japanese pickle, seaweed and fried egg.  
STAY  The elegant Le Germain Hotel at the foot of the Calgary Tower is just steps away from some of the hottest cocktail spots downtown, including Klein/Harris, which puts a distinctly Canadian spin on reliable favourites (try their take on a Tom Collins, made with spruce and maple syrup and finished with maple smoke), and Native Tongues Taqueria, where you can sample mezcal, tequila's trendy cousin. Feel like staying in? Drift downstairs to Lounge Central 899, the hotel's lobby bar, and sip a warm and herbal "CHAR-flower."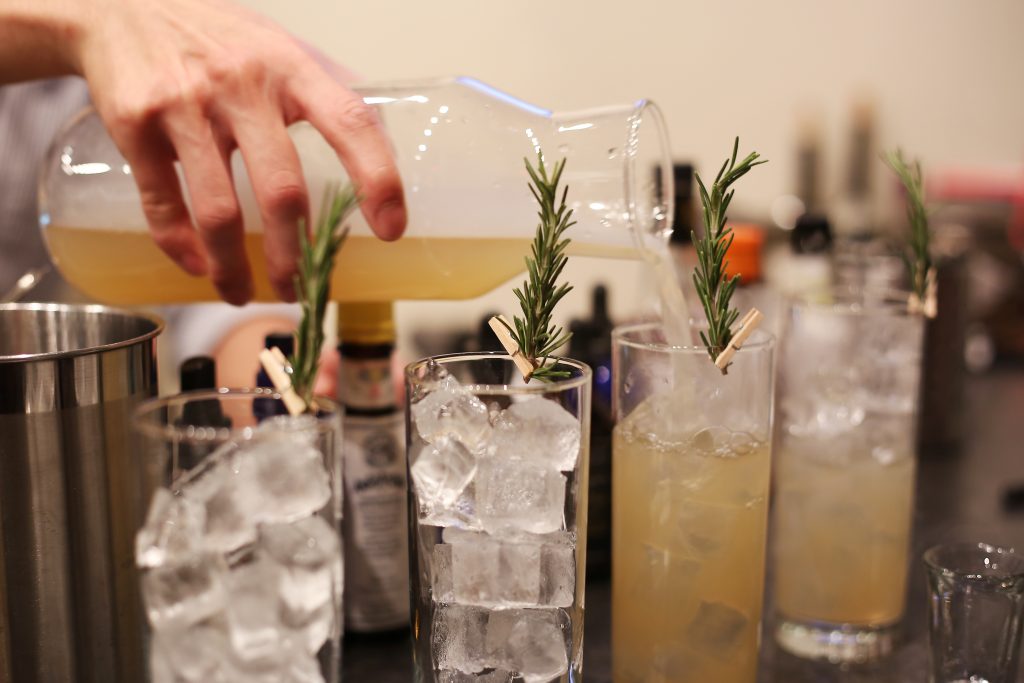 PLAY  With a wall-to-wall bar sure to inspire fantasies of swinging from its wooden ladder à la Belle in Beauty and the Beast, Proof has shot to the pinnacle of Calgary's bar scene since opening in 2015. The menu includes some off-the-wall creations — the Dune-inspired Arrakis Awakening combines mezcal, añejo rum, coffee, wasabi and agave, for instance — but the bartenders are happy to mix you something classic off-menu.
The must-do for everyone
Part of historic Fort Calgary, Deane House was once the residence of the North West Mounted Police's Capt. Richard Deane. Today, it's the Deane House restaurant, although the spirit of the captain presides over the intimate bar room in a namesake Manhattan. Classic cocktails and local beers are complemented by small plates, such as bison tartare with juniper aioli.
Shelley Arnusch (@ShelleyArnusch) is a writer and a senior editor at Avenue Calgary magazine. Alexandra Pope (@XelaEpop) is Canadian Geographic Travel's digital editor.