Mom would never let me walk out this far.
That's the thought that comes into my head as I make my way carefully down New Brunswick's Alma Beach toward the still-retreating waves of the Bay of Fundy, boots crunching on barnacle-crusted rocks. It's early February, only just past noon, but a scrim of high cloud has diffused the weak sunshine into a peachy twilight glow. Down at the waterline, more than a kilometre from the road, the only sounds are the wind in my ears and the cries of the great black-backed gulls that have congregated on the shoals revealed by the ebb tide. Behind the beach, a snow-dusted slope with a dense cluster of colourful houses rises above a small harbour at the mouth of the Upper Salmon River, where a couple of lobster boats are temporarily marooned on the red mud.
This is Alma, permanent population 250, gateway to Fundy National Park. In the summer, the village is packed with tourists munching on lobster rolls from Fundy Take-Out and exploring the intertidal zone. I've never seen the place so utterly deserted; but then, in the four years I lived in New Brunswick, it never occurred to me to visit the Fundy region in the winter.
It's my first time back in the province in a decade, and in a strange way, it feels like a homecoming. It's not just the film strip of memories that unspools as I rediscover the park I've loved since I first visited on a summer road trip in 1998. I'm also 14 weeks pregnant with my first child, and as I remember my mother calling me back toward the safety of the harbour breakwater, I imagine someday feeling the same mixture of pride and barely suppressed panic as I watch my kid flying down this beach at low tide.
Fundy's famous tides are, of course, the biggest draw of this rugged and sparsely populated stretch of coastline between New Brunswick's two largest cities, Moncton and Saint John. In one 12-hour tidal cycle, some 100 billion tonnes of water moves through this rocky channel between New Brunswick and Nova Scotia, reaching record-holding heights as the bay becomes narrower and shallower in its upper reaches — nine metres at Saint John, 12 metres at Alma, 14 metres at the Hopewell Rocks, 16 metres at Burntcoat Head, N.S.
Walking on the ocean floor beneath towering fossil cliffs is an amazing experience at any time of year (and when you stop to consider that within just a few hours, the water will rise to the height of a four-storey building, suddenly my mom's fears don't seem so irrational). But for travellers who don't mind the challenge of East Coast weather and an element of chosen loneliness, winter is the perfect time to experience this natural wonder of the world.
The national park looks different under snow, but I get a small thrill at the sight of familiar landmarks as interpretive supervisor Dan Sinclair takes me on a driving tour the following day. There's the scenic observation deck on Highway 114, an obligatory stop whenever mom and I would bring out-of-province visitors to the park, and Bennett Lake, where I taught my husband to kayak. The most delightful coincidence? My cosy, propane-heated oTENTik, Parks Canada's latest guest accommodation that combines an A-frame cabin and a tent, is perched on the exact same ridge overlooking Alma where mom and I camped on our first trip to Fundy 22 years ago. I can still see her walking over the road to the comfort station to plug in the electric kettle for coffee or Cup-a-Soup.
Fundy has a few curiosities for a national park, too, such as its heated saltwater pool (closed in the winter) that draws water directly from the bay and its nine-hole golf course designed by the Canadian course architect Stanley Thompson.
"When the park first opened [in 1950], it was referred to as an 'island of change in a sea of wilderness,'" Sinclair explains. The province's lumber industry suffered a downturn in the postwar years, and investing in tourism infrastructure was seen as a way to keep young people employed. "The resort mentality was really big."
In the last decade or so, the park has increasingly embraced its conservation mandate, becoming instead an island of wilderness in a sea of change. Work is ongoing to re-wild old logging roads that criss-cross the park's Acadian forest highlands and turn them into recreational trails, remove invasive plant species and return critically endangered Atlantic salmon from the inner Bay of Fundy to its rivers. The park is also actively working with the local Mi'kmaq, Wolastoqey and Passamaquoddy communities to ensure their stories and traditional knowledge are reflected in its interpretive programs. And, in 2011, the Royal Astronomical Society of Canada declared Fundy a Dark-Sky Preserve, and guided nighttime star- gazing walks have since become one of the most popular all-season activities in the park.
"Winter is one of the better times for our dark-sky program because it gets dark so much earlier," Sinclair says. "Even on nights when there are no stars, it's still a great experience to be out in the dark, listening for owls and other wildlife.
"You can access places [in the winter] that are normally a bit trickier to get to because there's vegetation, and it also just gives you a different view of things," he says. By the end of the day, I can see what he means. I hike to one of the park's new rustic cabins with Sinclair and fellow interpreter Denis Doucet and watch in amazement as, with a quiet pshpshpsh, Doucet calls a couple of curious chickadees to the branches above our heads. I opt out of tobogganing at "the bowl," a huge sloping lawn across from the main park visitor centre, but try fat-biking on a hard-packed trail (and experience a moment of panic when I tumble sideways into a snowbank, until the Internet assures me that my nectarine-sized fetus is well-protected within my pelvis).
Later that night, I warm my aching muscles in front of the propane fireplace in my oTENTik and imagine what it would be like to simply hibernate here for the rest of the winter, occasionally venturing into Moncton to re-provision, but otherwise spend my days exploring the trails, walking the beach and quietly growing my baby. Weeks later, at the height of the COVID-19 pandemic, this idle fantasy will start to seem more like a premonition, but for now, voluntary self-isolation is my idea of a good time.
According to Mi'kmaq oral tradition, the deity Glooscap wanted to take a bath, and so he asked his friend Beaver to make him a tub. Beaver obliged and built a dam across the mouth of what's now called the Bay of Fundy. This angered the other animals, who wanted to move freely between the bay and the open ocean. So with Glooscap's consent, Whale slapped her tail down on the dam, breaking it and setting in motion the steady rocking of the waters, called a seiche, that persists to this day.
Though perhaps not forever: some geologists believe that in another 3,000 years or so, erosion will make the Bay of Fundy too long and shallow to sustain its remarkable tides.
I think about this the following day as I hike another of the region's most popular beaches, Hopewell Rocks Park. A storm has moved in, and snow is falling thickly, making the iconic flowerpot rocks look more like half-eaten slabs of Black Forest cake.
This place, too, looks different than I remember, but for good reason. Tidal erosion works quickly on these sandstone pillars, carving out caves and arches and animal-looking figures (and at least one obvious phallus) only to destroy them within a few decades. The 2016 collapse of one of the most photographed rocks, Elephant Rock — which appears on the province's medicare card — made national headlines.
Today, the high-water mark is visible as a thin line of ice wrapped around the base of the flowerpots, but the tide has caught up to me here before. The beach is shallower and more steeply inclined than in Alma; it would take just 27 minutes for the water to rise from your feet to your chin. "People will get deceived," says Paul Gaudet, manager of interpretive services and reception at the Hopewell Rocks Visitor Centre. "You can be standing out there at what looks like low tide, and then suddenly the water's lapping at your feet."
For that reason, winter exploration of the rocks is very much at your own risk, but it's a risk worth taking for the absence of crowds, the snow-dusted rocks, the metre-long icicles that dangle from the mouths of caves, the massive growlers of gritty ice heaved up on the mud. Even at this southern latitude, some patient photographers have managed to capture the flower- pots silhouetted by the northern lights on long winter nights.
And if the tide does take you by surprise? There's an escape tower at Diamond Rock, at the far southern end of the beach.
"We're not going to rescue you, though," says Gaudet. "You have to wait it out."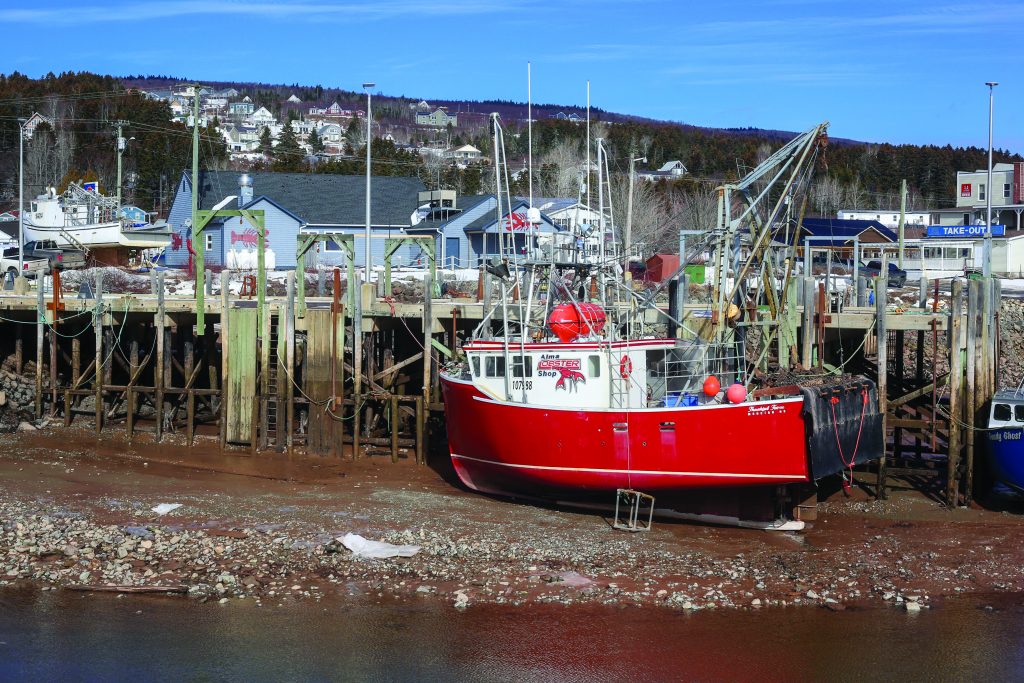 Five weeks after I return home to Ottawa from New Brunswick, the World Health Organization declares COVID-19 a global pandemic and Canada goes into lockdown. I think often of Fundy as I walk the same three-kilometre loop around my suburban neighbourhood and count the days and weeks of my pregnancy. Summer brings some relief from the profound isolation of the spring, but not from the dread of a second wave. I comfort myself by making my son a promise: someday, we'll go to New Brunswick and camp on the bay. We'll listen for the chickadees and look for the stars. I'll watch you run on Alma Beach, filled with the joy of being by the ocean, and I'll try not to be afraid.