A croissant-shaped set of islands on the western fringes of the Sargasso Sea, Bermuda erupts out of the Atlantic Ocean in a kaleidoscope of sun-drenched colour, complete with coral reefs, pink sand beaches and stunning hilly vistas.
There are no chain outlets, rental cars, tall buildings or highways, and cars are restricted to one per household, giving the island of 60,000 a small-town, other-worldly feel: think bubblegum pink buses, scooters, electric cars and whistling tree frogs; moongates and blossom-covered pathways leading to idyllic cottages; spectacular beaches with water so clear you can see to the sandy bottom.
Perfect for a couple's getaway or a family vacation, Bermuda lives up to its reputation as a sub-tropical "happy little paradise."
"You can go to heaven if you want – I'd rather stay in Bermuda," wrote Mark Twain, who visited many times between 1867 and his death in 1910.
Ancient volcanic eruptions gave the island its rugged cliffs and grottoes, while a coral reef protects its shores. The scenery is so spectacular you'll feel like you've just landed on a deserted island in the middle of the Atlantic. And that is essentially the story of Bermuda: the island was recorded on Spanish charts starting in 1511, but it wasn't until an English sailing vessel shipwrecked here in 1609 that the island's first inhabitants came ashore. Bermuda remains a British territory, split into nine parishes, each with its own character, churches and things to do.
Here are some must-see highlights.
The Bermuda Railway Trail National Park
This 29-kilometre paved trail, which is actually a national park, runs the length of the island and is a great introduction to Bermuda by bike or on foot (no cars allowed). The series of trails follows the old Bermuda Railway, known as the "Old Rattle and Shake," which back in the 1930s and 1940s was how locals got around. Divided parts of the trail are connected by bridges, steps and pathways.
The section I visited begins at Scaur Hill Fort (a destination itself with historic cannons and outstanding views) and winds down through the countryside, offering a sneak peek into people's luscious, carefully cultivated gardens. I passed fields of cauliflower, shrubs of vibrant oleander, cranberry red hibiscus, and spiny fiddlewood trees. In the early morning, the only other visitors were mourning doves and yellow-bellied kiskadees. If you prefer to look at the ocean and beaches, try the section from Hamilton Parish to Coney Island for spectacular vistas.
"You can go to heaven if you want – I'd rather stay in Bermuda."

Mark Twain
Beaches
There are so many lovely beaches to explore on Bermuda, many with secluded coves, hidden caves, cliff jumping and the island's famous pink sand.
Horseshoe Bay on Bermuda's south shore in Southampton Parish is a favourite with tourists, especially visitors from cruise ships. You can rent towels, umbrellas, and snorkel equipment, and buy a fish sandwich, cold drink or rum swizzle. If you prefer solitude, keep walking northeast and you will pass through three more lovely beaches, Chaplin Bay, Jobson's Cove and Warwick Long Bay Beach.
The last was my favourite: pristine, with deep white sand, few visitors and no concessions, just stunning scenery and amazing surf. Another stand-out is Tobacco Bay, famous for volcanic rock formations and located in St. George's Parish, close to historic St. George.
Water, water everywhere
Seeing Bermuda from the water offers another perspective, a chance to visit one of the territory's many shipwrecks and see the wealth that isn't always visible from land. You can charter a boat, rent a catamaran, go for a paddle – or sign up for a jet ski excursion with Blue Water Divers and Water Sports at Robinson's Marina, near Somerset Bridge in Sandy's Parish (my choice). Harry Patchett, a retired teacher, explained how to operate a jet ski in about five seconds, advising that going quickly was the safest option. In what Harry only later admitted were some very choppy waters, we circumnavigated Somerset Island and reached HMS Vixen, a ship scuttled in 1896.
We stopped at the shipwreck, retrieved our snorkeling gear from the cargo bin, and had a heavenly swim, chasing schools of bream, chub and grey snapper. The circumnavigation also gave us a chance to pass by Five Star Island and Hawkins Island – both privately-owned hideaways with panoramic views, tranquil private beaches and upscale villas, as well as Sea View, a salmon-coloured cottage that David Bowie rented for years with his wife Iman. "We loved it in Bermuda during our time there. Quiet, respectful, a dreamscape atmosphere," Bowie later said about his years living there.
Hamilton
Be sure to check out the capital and main port on foot and view colonial-style buildings, art galleries, shopping and bars along Front Street. This bustling, if small, city is dominated by a series of landmarks, including the neo-classical Sessions House, host to Bermuda's House of Assembly, and on its grounds the diminutive but elegant Cabinet Building, dating to 1833. Fort Hamilton still boasts menacing 18-ton artillery pieces, but the fortress has been turned into a lush park with views from the battlements. The gothic revival Cathedral of the Most Holy Trinity once served as "chapel of ease" for the Anglican Bishop of Newfoundland and Bermuda. 
Hamilton Princess Hotel & Beach Club
Once you're done sightseeing, head to the Hamilton Princess Hotel & Beach Club. A majestic property with stunning views of the harbour, the Fairmont-managed hotel remains the epitome of elegance. Dating to 1885, it was named in honour of Princess Louise, a daughter of Queen Victoria, the wife of one of Canada's governors-general, who wintered in Bermuda. The hotel later served as a centre for British intelligence during the Second World War, and the legendary Canadian spy chief Sir William Stephenson, known as "Intrepid," lived there for a time. (Stephenson retired in Bermuda and is buried in Pembroke Parish Cemetery).
We hit happy hour at the hotel's 1609 restaurant, where men dressed in Bermuda shorts and knee socks and women in white dresses sip Dark 'n' Stormies: rum and Bermuda stone ginger beer. The hotel's lobby, with lofty ceilings and a marble floor, vibrated with chatter and fun and I was awed by the stunning private art collection. Robert Indiana's iconic sculpture LOVE welcomes you at the front entrance, followed by Andy Warhol's Queen series at reception. A gigantic KAWS sculpture titled At This Time looms over the courtyard. Elsewhere I spotted Banksy's Girl with Balloon, and Jeff Koons' Monkey (Blue). The Princess is part legendary hotel and part world-class contemporary art gallery. They even offer tours for guests.
St. George
History buffs will love St. George, Bermuda's first capital, which retains the look and feel of its 17th-century origins. Located on the north end of Bermuda near the airport, it is the oldest continuously inhabited English settlement in the western hemisphere and a UNESCO-designated historic site. We walked the cobblestone streets of the central King's Square and imagined how the community of early settlers adapted to life in the sub-tropics. The distinctive white State House, built of limestone blocks and mortar made of turtle oil and lime, is worth visiting. Nearby is the tangerine-coloured Town Hall. St. Peter's, with exposed cedar beams in the interior, was granted status as Her Majesty's Chapel Royal by the Queen in 2012, to mark its 400th year.
The church boasts a cemetery that tells a great deal about Bermuda's history, with a section for whites and one for Blacks, reflecting a segregationist past (a practice itself long-buried, as both the Governor and the Prime Minister are Black). Graves from the 1800s noted death due to yellow fever, while one monument from 1973 told of the death of Governor Richard Sharples, assassinated while walking his dog after a dinner party.
I also loved Fort St. Catherine, located between St. Catherine's Beach and Achilles Bay, surrounded by a dry moat and accessible by a drawbridge, with five 18-ton cannons. The ramparts overlook the ocean, while the impressive museum inside is filled with replicas of the Crown jewels, muskets and pistols, and many tunnels to explore.
Recommended lunch stop: Wahoo's Bistro & Patio for excellent Bermuda fish chowder with a side of water views.
Tom Moore's Jungle
Walsingham Nature Reserve, also known as Tom Moore's Jungle, transports you back to a time when Bermuda was unpopulated and filled with luscious forests. Demarcated by Tom Moore's Tavern, the jungle features a trail through lush foliage. An open beach, lined with mangroves, is a highlight, and Blue Hole Park offers a chance to jump into refreshing cool water after the trail walk. A serene, meditative spot, my guide tells us it is a popular location for locals to practice yoga and meditation. No wonder, as the diversity of tree species (endemic cedar, palmetto, wild coffee bean) leaves room for everyone to have their own Bodhi Tree moment.
The jungle got its name from Irish poet, Tom Moore, who used to sit under a calabash tree and write poetry that wasn't as inspiring as the location. The nearby Crystal Cave and Fantasy Cave are worth a visit; you walk down 88 steps through a series of caverns to a beautiful lagoon below with giant stalagmites and stalactites. Swimming isn't allowed but I did see several cell phones on the cave floor.
Where to stay: Pompano Beach Club
The first morning in Bermuda I woke up early, slid open the patio door of my suite and stepped out to take in the blue sky, and, stretching beyond the coral umbrellas of Pompano Beach Club's pool deck, the aquamarine waters of the Sargasso Sea. It was a typical (for Bermuda) picture-perfect day and I wanted to go explore. I went down to the front desk to ask about a good walking route near the hotel.
The person on duty said he would shuttle me right to the entrance of the nearby Railway Trail, a path that spans the island following an abandoned rail bed, affording stunning views of the island's pink sand beaches and luscious forests.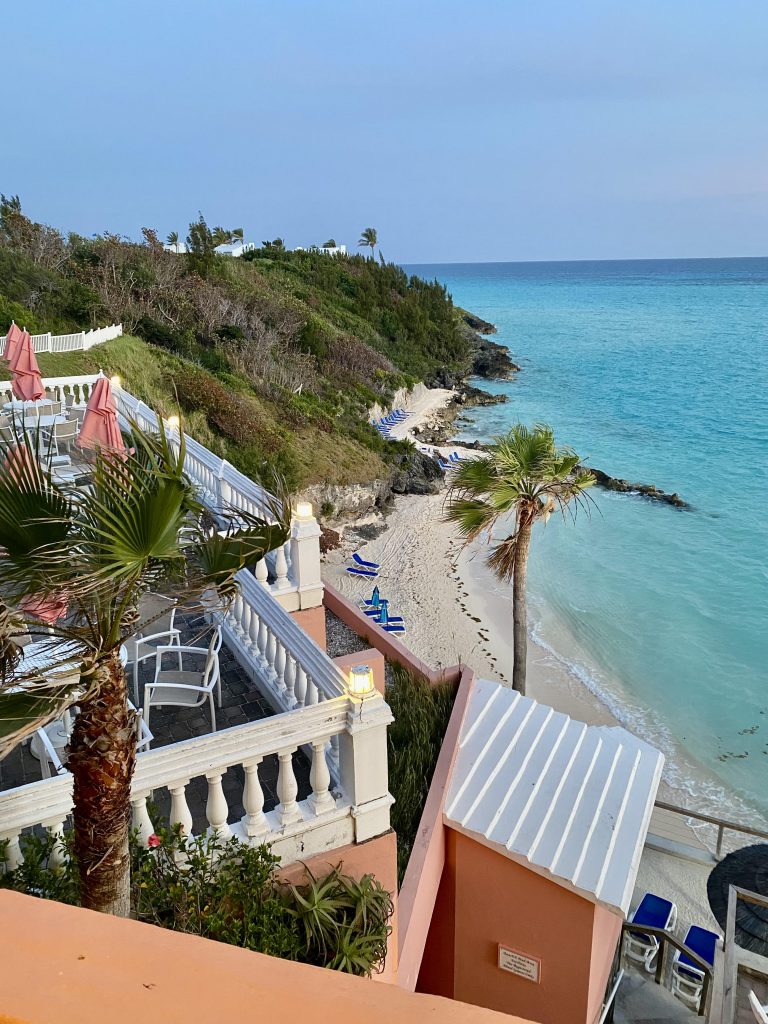 As he dropped me at the trailhead, the shuttle driver suggested that when the walk was over I could summon the hotel van via a phone at the resort gate for the winding drive back to Pompano Beach Club. I made my way west on the trail, over Somerset Bridge – reputedly the smallest working drawbridge in the world — and past Scaur Hill Park, pausing briefly to look at the battlements of Fort Scaur, before eventually doubling back. Tired, but exhilarated by the walk, I opted to make the call for the shuttle when I reached the hotel gate. A second driver soon collected me.
It was only later that day that I realized that the two shuttle drivers were, in fact, Larry and Tom Lamb, co-owners of the resort. They were too modest to mention this — or maybe it never occurred to them. They were just going about their business as gracious hosts. It revealed a lot about the Pompano Beach Club, which is not a typical resort, operated by a distant corporate entity. Instead, it is a family business with homespun charm.
Located in Southampton, on the west coast of Bermuda, Pompano Beach Club is ideally situated adjacent to Port Royal Golf Course and among the closest resorts to the Royal Navy Dockyards and the wonderful National Museum of Bermuda. Perched on a cliff, it is also a destination itself, famous for its sunsets, its sandy beach nestled below its restaurants and lounge, and for the shallow, crystalline water stretching out from the shore.
The beachfront is spectacular. Even on an island celebrated for legendary beaches and pink sand – like Horseshoe Bay Beach, Warwick Long Bay or Tobacco Bay Beach – it is special. At low tide, you can walk out for 100 metres with the water only reaching your waist.
Founded as a fishing club in the 1950s, the resort unsurprisingly boasts some of Bermuda's best shoreline fishing. We stood on a sandbar, and on the resort's floating swim platform, and saw the namesake pompano swimming close by in the shallow water.
Needless to say, as with many of the best restaurants in Bermuda, seafood is on the menu of the resort's Ocean Grill, and a more casual Cedar Room. 
Many guests opt for Pompano's breakfast and dinner plan for the convenience, the excellent cuisine and evolving menu, the breathtaking views through the Ocean Grill's enormous windows or from the Cedar Room's terrace, as well as the plan's flexibility. The hotel allows guests a reduction if they opt to take any meals elsewhere. 
This generous approach is appreciated, but, excepting the occasional change of scenery, such as next door at the Bella Vista Bar & Grill at the Port Royal Golf Course, I suspect few avail themselves of it. We chose to eat most of our meals at Pompano, usually either preceded or followed by a dip in one of the resort's cliff-side hot tubs. We were rarely alone, as a green heron regularly perched nearby.
Pompano epitomizes genteel, family-owned luxury, its casual elegance complimented by its stunning, beachfront location. Every room in Pompano features unforgettable views, not just the guest rooms and restaurants, but even the gym boasting panorama ocean vistas. The hotel motto ought to be, if you've got it, flaunt it.
                                   — John Geiger