Cheyenne Hackett from the Homalco First Nation stands at the bow of a 30-foot cabin cruiser that holds a dozen passengers, gazing out at the mouth of the long, deep fiord of Bute Inlet, northeast of Vancouver Island's Campbell River. Wearing a button blanket sewn by her grandmother, she sings the Women's Warrior Song in honour of missing and murdered Indigenous women and girls.
She pauses, then looks out toward two abandoned buildings, all that remains of a mainland village in the Orford Valley, the home of her ancestors. "This here is Church House. This is where our people are from."
I'm in Bute Inlet with Homalco Wildlife and Cultural Tours, who have been running grizzly bear tours in the area for more than a decade. But this is June and grizzly tours don't start until mid-August. I'm here because the company has just launched a new offering that extends their tour season. Their People, Water, Land tour takes place near the same location along the Orford River as their grizzly tours but guests are instead walked into the forest for an experience that connects them with the land and its traditional uses. Over the course of around eight hours, the history and culture of the Homalco unfold as Hackett takes me to see ancient petroglyphs, teaches me to weave a bracelet from cedar bark, and recites traditional stories. It feels like an added bonus that I also spot a black bear and cub, humpback whales and dolphins en route.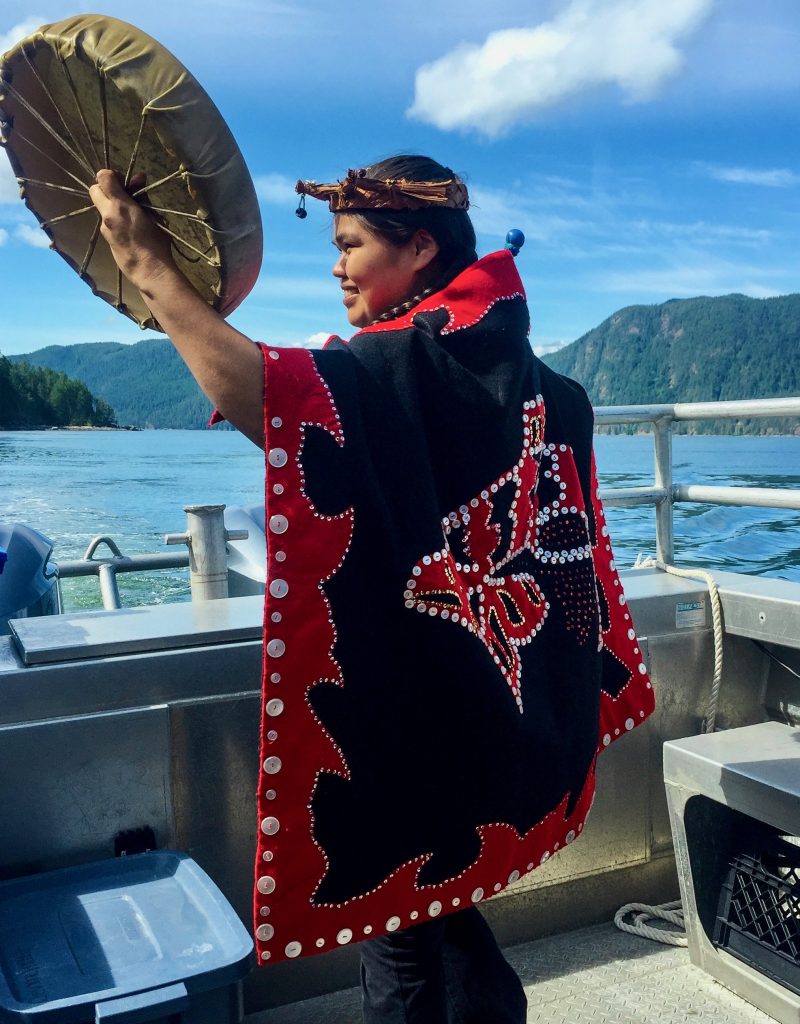 The Xwe'malhkwu, or Homalco First Nation, are known as the people of the fast running waters. Their traditional territories extend from Dent Island, just north of Sonora Island, to Raza Passage and cover the entirety of Bute Inlet. Their recent history, however, includes displacement from the waters for which they are named. Hackett explains that, following the arrival of missionaries in the late 1860s, the Homalco were relocated first to the village site of Muushkin on Sonora Island, then to Church House until, unable to maintain their traditional lifestyle, many opted to leave again in the early 1980s. Most members now live on reserve in Campbell River.
Although geographically removed from their unceded traditional territory, the Homalco remain its stewards. Almost 20 years ago, when salmon numbers in the Algard Creek that runs through the valley reached a critical low, the Nation built a salmon enhancement hatchery, now also a stop on the new tour. The hope, says Tourism Development Officer JP Obbagy, is to eventually bring salmon stocks—predominantly chum, coho and pinks—back "to pre-colonial levels." This conservation work had the additional benefit of attracting an abundance of grizzly bears to the area, which the Nation recognized as an opportunity to develop a bear-viewing business.
Homalco Nation hires members to be tour guides, immersing them first in a training program that includes language, song and story and learning traditional ways of life from Elders. It has become something bigger than a tour business: a way to reintroduce Homalco youth to their cultural heritage, which missionaries had tried to obliterate by forcing them to burn their regalia, masks and carvings, and banning them from holding ceremonies and practicing traditional songs and dances. On my tour, Hackett talks candidly about how returning to her people and culture through her work as a tour guide has helped her to heal from difficult circumstances she faced in her youth.
Additionally, expanding its tour season to five months a year means more sustainable employment for staff. Obbagy adds that this year the company hosted an eight-week-long Indigenous tour guide training program as an effort to not only welcome new guides into the business, but also provide them with the skills to look for work beyond the Nation.
Bringing back the salmon has brought back bears, which has brought tourism, which has brought back culture and increased employment opportunities. Everything, it seems, is connected. This relationship between economic development and tourism, however, is built on sustainability and respect for the land, something the Homalco people have practiced for hundreds of years.
"There's a chain of events that takes place," says Obbagy. "The Homalco people are doing their very best to manage it as responsibly as they can — create the employment and economic opportunities but also make sure that what's here isn't lost over time."
A growing industry
Six months later, Homalco Wildlife and Culture tours picks up the Exceptional Outdoor Cultural Experiences award at the eighth annual International Indigenous Tourism Conference, held on the traditional and unceded territory of the Syilx Nation (Kelowna, B.C.). Tourism's potential to strengthen connections to culture and community is a frequent point of discussion during the three-day conference. It's an exciting time: Indigenous tourism is the fastest-growing sector in Canadian tourism, increasing by 23.2 per cent between 2014 and 2017, compared with a 12 per cent increase in overall tourism in Canada. One in three international visitors are interested in Indigenous experiences, according to data from the Indigenous Tourism Association of Canada (ITAC), and for good reason: our planet is in turmoil and Indigenous experiences can open visitors' eyes to better ways of living. "It's about satisfying a deep yearning for a connection with the land," says Brenda Baptiste, Chair of Indigenous Tourism BC.
But it's not just about the visitor experience. Indigenous tourism, done on Indigenous peoples' own terms—ITAC defines this as "tourism by Indigenous peoples, not about Indigenous peoples"—can also be a way of preserving culture while earning a living. It can serve both Indigenous and non-Indigenous communities, strengthening connections between them while also educating visitors and providing the transformative, sustainable experiences—like those offered by Homalco Tours—that today's travellers crave.
The 8th Annual International Indigenous Tourism Conference
Each year, on the final day of the International Indigenous Tourism Conference conference, the Indigenous Tourism Association of Canada and Indigenous Tourism BC recognize organizations and individuals for their outstanding achievements in tourism, both in B.C. and nationally. Nominees must be majority (at least 51 per cent) Indigenous-owned and controlled. Here's a look at the 2019 winners.
National
Indigenous Adventure Award | This award is presented to a business that recognizes best practices in Indigenous adventure travel with a focus on responsibility and sustainability. It was awarded to Wikwemikong Tourism (Ont.), which offers experiences, including guided hikes and canoe expeditions, that reflect the cultural lifestyles and traditions of the Anishnaabek people of the Three Fires Confederacy – Ojibwe, Odawa, and Pottawatomi.
Most Inspiring Cultural Ambassador | Levy Uttaq from Igloo Tourism (Nun.), which offers Inuit-hosted Arctic adventures, was recognized as a representative of an Indigenous business who inspires those around them in the way they represent their culture to visitors.
Most Improved Business | In recognition of an Indigenous tourism business that has significantly improved, this was awarded to Site d'Interpretation Micmac de Gespeg (Que.), which explains the culture and history of the Mi'kmaq through an exhibition, tours, a recreated village and workshops.
Best Marketing Campaign | Vacances Essipit (Que.), which offers sea kayaking, hunting, fishing and bear watching on Innu lands, was recognized as an Indigenous tourism business that has planned and implemented an effective marketing campaign.
Inspiring Indigenous Culinary Award | Buffalo Point Lodge (Man.) won this award for significantly raising the profile of Indigenous cuisine and food experiences.
British Columbia
Exceptional Outdoor Cultural Experiences | Homalco Wildlife and Cultural Tours was recognized for its delivery of an Indigenous cultural experience and adventure in the outdoors.
Remarkable Indoor Cultural Experiences | St. Eugene Resort & Casino, which occupies a former residential school in Cranbrook, won for its delivery of cultural knowledge and overall guest experience.
Outstanding Indigenous Accommodations | The Lund resort at Kla ah men—built in 1905 and purchased by the Tla'amin Nation in 2016—was recognized as an excellent lodging experience that incorporates Indigenous themes.
Customer Service Award | In recognition of frontline team members in BC Indigenous tourism with exceptional customer service, this award went to Sierra Hall at Spirit Bear Lodge in the Great Bear Rainforest.