Safe, popular and easy on the leg muscles, cable cars and funiculars have been shuttling tourists since the late 19th century. While it's common to find the vehicle types used interchangeably, there's a difference in the mechanics. Gondolas, also known as cable cars, consist of different cabins connected to a thick cable that is constantly circulating between its low and high point. Tramways have two large passenger cabins that shuttle up and down on a fixed moving cable.  When the cabin reaches the top, the cable direction is reversed for the descent. Funiculars use a fixed cable to pull a passenger railcar up and down a very steep hill, usually in an urban setting. Now that we understand these modes of transport, let's hop aboard the best in Canada, starting in the Rockies.
Five minutes' drive from town is the Banff Gondola, shuttling visitors in four passenger cabins to the top of Sulphur Mountain. Following an 8-minute ascent to the summit at 2281m, visitors explore a kilometre-long mountain boardwalk, take a more challenging hiking trail into the mountains, pop into an interpretation centre, gaze out from an observation deck, or grab something to eat in one of the two mountain-top restaurants. A new winter evening experience, Nightrise, brings sparkling lights, projections, sound and Indigenous storytelling to the summit.
The longest and highest aerial tramway in Canada opened in 1964, and has been wowing visitors ever since. It's a 10-minute ride to the upper station in a passenger cabin that holds about 20 people, cresting above the tree line revealing sprawling alpine views across six mountain ranges, the town of Jasper, and the Athabasca River. After disembarking the tram, take the short but steep 1.4km hike for a view at the top of the world at Whistlers Peak. Day hikers can also continue on a 12.7km loop above the tree line in the company of resident Hoary Marmots and Mountain Goats.  
Lake Louise Gondola and Banff Sunshine Gondola 
Banff's ski resort gondolas double as sightseeing experiences in the summer. The Lake Louise Gondola immerses you in the Rockies, with views of the Victoria Glacier and regularly floating over grazing grizzly bears. From the top, you'll find the Whitehorn Bistro, and a range of guided and self-guided day trails. The Banff Sunshine Gondola is a 4.6 km-long umbilical cord to the mountain village, transporting all guests, staff, food and equipment. When it opened in 2001, it was the fastest cable lift in the world. After arriving at Sunshine village in one of the 8-passenger cabins, you can hop on the Standish chairlift to access hosted or self-guided alpine hiking trails.   
Quebec's 64m-long dual car funicular is a fun, fast, cheap and easy way to transition from Upper Town's Dufferin Terrace to Lower Town, where visitors to explore the Petit Champlain district, port, and museums. Originally opened in 1879, the passenger cabin travels along a 45-degree angle, and it's the only funicular of its kind in North America. Originally built using water as counterbalancing ballast, the funicular has been restored and modernized several times over the years. It operates until midnight in summer months, and costs $4 per ride, with pets, young kids and wheelchair customers riding free.
Locals were initially concerned when plans were announced to open a tourist gondola off the Sea to Sky Highway outside of Squamish BC. This is pristine hiking country, anchored by granite monolith and global climbing hotspot, the Stawamus Chief. Instead, the 849m-long gondola opened up exciting new hiking, walking and biking terrain, wowing locals and visitors alike with spectacular views of the Howe Sound. The 8-passenger cabins also take visitors to an outstanding suspension bridge and outdoor dining patio. 
Admiring stellar views over the coastline of Cape Breton Highlands National Park has long been an East Coast highlight. Atlantic Canada's first and only gondola opened in 2021, shuttling 8 passengers at a time on an 8-minute ride to the top of all-season Cape Smokey ski resort. There's no restaurant or washroom facilities at the 300m-high summit, but there is a 2km-hiking trail at the top, and a spectacular view.
The ski peaks of Whistler and Blackcomb decided to connect via gondola, and it needed one serious engineering achievement. When it opened in 2008, the Peak 2 Peak Gondola held world records for the highest point above ground (436m), and longest free span between towers (3.03km), and the two largest lift terminals in the world. The 11-minute journey can usher over 4000 people an hour, opening up 50 kilometres of hiking trails and 8000 acres of ski terrain. Today it's a top Canadian landmark, and a global engineering marvel. Cars arrive and depart ever 49 seconds, including a couple of cars with glass-bottoms.
North America's largest aerial tramway system offers visitors to Grouse Mountain stunning views of Vancouver, surrounding forests, mountains, and the Gulf Islands in the distance. The 45-passenger car takes 14 minutes to reach the top,  running 365 days a year for tourists and locals to access a range of activities, including a gourmet restaurant, wildlife, and a busy ski resort in winter. During summer, you'll find a grizzly bear enclosure, bird of prey shows, logging demonstrations, and zip lining and paragliding for the more adventurous. On the way down, you might notice some particularly sweaty passengers. A popular local pastime is to hike up the punishing Grouse Grind, and take the Skyride down to the parking lot. 
Blue Mountain Open-Air Gondola
It might not have the elevation of its Western Canadian counterparts, but the open-air Blue Mountain Gondola offers a lovely ride to the top of the Niagara Escarpment, allowing hikers and bikers to access a network of trails. It's a gentle ride up with 360-degree views of Georgian Bay and its surroundings, particularly lovely when you combine your ride with exploding fall foliage. From the top, you'll find various services and events in the Blue Mountain Village, and can swoop down on the Ridge Runner Mountain Coaster. 
Getting from downtown Edmonton to the Saskatchewan River Valley got a lot easier when the 100 Street Funicular opened in 2017. An all-glass enclosure takes pedestrians, free of charge, on a 48-second ride between the city centre and riverfront promenade, where you can access trails, viewing decks and scenic picnic areas. Functioning like an operator-free elevator, the funicular operates year-round, and is also bike friendly. There are steps adjacent for those who prefer to walk up or down.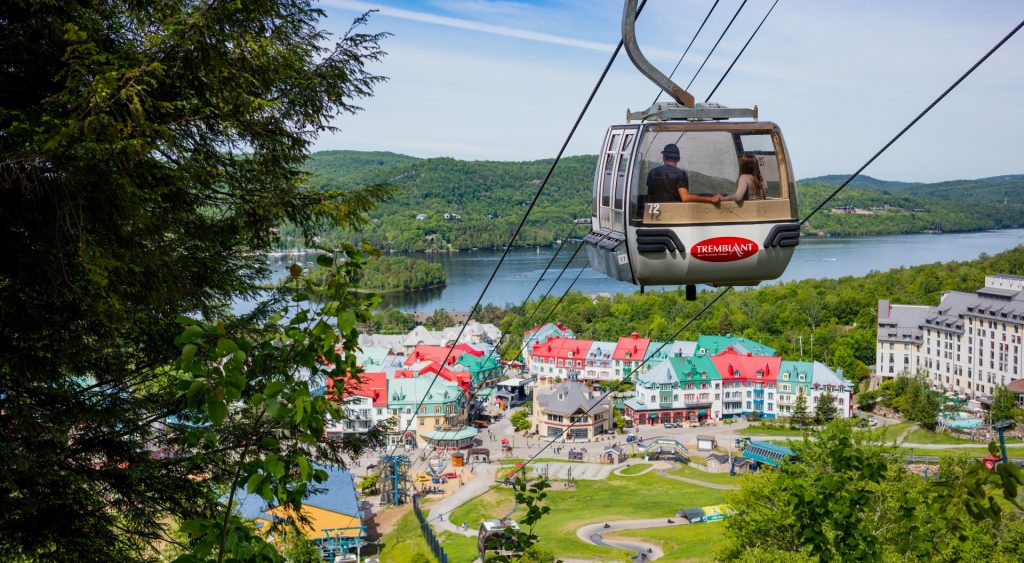 Much like Grouse Mountain, Mont Tremblant's ski gondola is open in the summer, providing views of the Laurentians and Lac Tremblant, and opening up village activities like an alpine luge, observation tower, and dining and shopping.
Given the hilly terrain and strong to view Niagara Falls from above and below, there have been eight incline funiculars in Niagara's history, but only one is still in operation. Located in the centre of Queen Victoria Park, the Niagara Falls Incline Railway funicular shuttles visitors on a 30-degree slope between the Fallsview hotel strip and the Bridge of Flowers over the Niagara Parkway. Originally built in the 1960s to help exhausted tourists get up and down the hill, the system was modernized in 2013 with enclosed cabins that operate year-round. The two counterbalanced cars take up to 40 passengers each, and the ride lasts just over a minute.