The beauty of northern Ontario, combined with the power of the Great Lakes: Sault Ste. Marie is an outdoor enthusiast's haven for activity and adventure. With a rich history of Indigenous culture, a weekend in this border city is an unforgettable experience.
Day 1
8 a.m. | Rise and shine
Paddle into the sunrise on a Canoes for Conservation guided tour along one of the region's historic waterways. The 2.5-hour of the St. Marys River takes you through the historic Sault Ste. Marie Canal (famously the world's first electrically-operated lock) and lets you dip your paddle into the Whitefish Rapids, a culturally significant gathering spot for the Anishinaabe. No paddling experience required!
11 a.m. | Fuel up
Hungry after all that paddling? Owned and operated by an Indigenous family, Chummy's is a classic diner experience serving all-day breakfast, lunch and dinner. Try the blueberry pancakes topped with locally-made maple syrup.
3 p.m. | Walk back in time
Hiking shoes on, head to Whitefish Island, a National Historic Site. Formed by geological processes more than 2,000 years ago, its unique location between lakes Huron and Superior made it a focal point for trade and settlement. It's also another chance to see the Sault Ste. Marie Canal, built in 1895. Although surrounded today by industrial and urban development, Whitefish Island remains a natural oasis, with tidy trails maintained by the Batchewana First Nation. 
Day 2
9 a.m. | Nature immersion
Lace up your hiking shoes again and head out with Thrive Tours, an Indigenous-operated tour company that promotes stewardship of the land and shares local history on every tour. Choose from an easy hike (two to four hours) or a longer excursion (four to six hours) based on your ability level. Hikes are led by co-owners Amanda Cora and Brad Robinson, a member of the Oneida Nation of the Thames First Nations, and immerse you in the natural beauty of the Canadian Shield.
2 p.m. | Learn and reflect
Take some time to reflect with a visit to Algoma University, which is located on the site (and uses some of the buildings) of the former Shingwauk and Wawanosh Indian Residential Schools. The Shingwauk Residential Schools Centre is a cross-cultural research and educational project that works with survivors, churches, educators and First Nations to preserve and display the history of residential schools in Canada.
The Shingwauk Indian Residential School only closed in 1970.
5 p.m. | Time to celebrate
Immerse yourself entirely in Indigenous culture by taking in a Pow-Wow. Sacred and beautiful, many Pow-Wows are open to everyone, Indigenous or not. The energy you'll feel from dances, chants, drum beats, and stories will leave you with memories to last a lifetime. Celebrations this year will be held in April, June, August and September; check Sault Tourism's website for confirmed dates.
Day 3
10 a.m. | Find a unique souvenir
Family owned and operated, The Trading Post is home to a number of local businesses, including Frenchies Fish House, the Totem Pole souvenir shop and Krush Clothing Boutique. Grab a sweet treat from The Big Moose ice cream parlour while you browse.
Then, drive up the beautiful Lake Superior coast to the nearby township of Algoma (Pancake Bay) for a shopping spree at Agawa Crafts & the Canadian Carver. Agawa Crafts specializes in Canadian native crafts, furs, moccasins, pottery and jewelry, while the Canadian Carver highlights whittled works and wood carvings.
1 p.m. | Indigenous eats
Sink your teeth into tourtière or bannock — traditional Métis foods — at the Voyageurs' Lodge & Cookhouse. Or, try the Montreal Canoe, their version of a classic club sandwich. This year marks the Lodge's 20th anniversary, so expect some celebratory surprises when you visit.
The COVID-19 pandemic may have changed or altered these options, but recovery at the Lodge is ongoing! Indoor dining may not be offered in 2022.
4 p.m. | Picture this
Cap off your visit to "The Soo" with a rocky trail hike to check out Agawa Rock, one of the most famous pictograph sites in Canada. Found in Lake Superior Provincial Park, the rock paintings date back to the 17th and 18th centuries and have withstood the tests of time — but are in constant danger of erosion and fading from sun, wind and rain damage. The images include canoes, warriors and familiar animals such as deer and caribou, along with Mishipeshu, a spiky, lynx-like creature said to be the spirit of the water.
Please do not touch the paintings. Agawa Rock is a sacred site.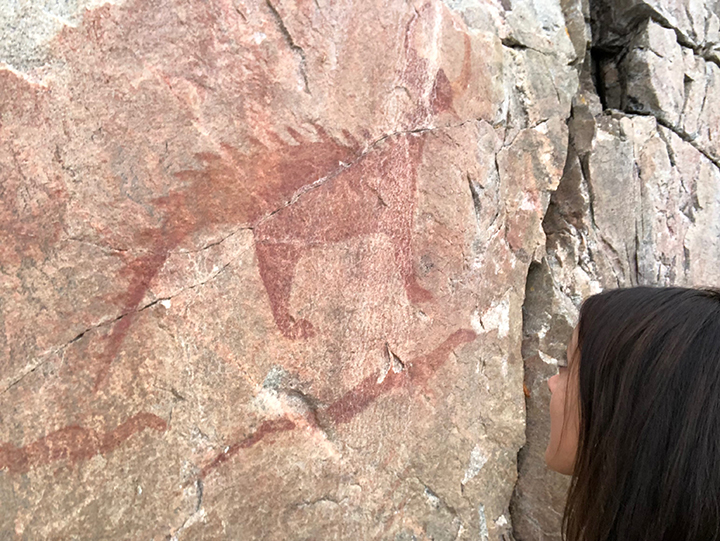 This article is sponsored by Tourism Sault Ste. Marie. For more information and inspiration, visit their website.