Three young jaws drop as my family enters a two-room suite at Hotel X Toronto. 
"Um, this room is bigger than our house!" says Zev, 7, characteristically hyperbolic.
"This. Is. The. Best. Hotel. Room. Ever," retorts his sister Savannah, 10. Older brother Finn, 12, is speechless.
The trio has never before stayed in a luxuriously appointed two-queen-bed room adjacent to a king suite, replete with ensuite with soaker tub, dining area and corner living space with panoramic views of the downtown skyline, in this case including Lake Ontario, Billy Bishop airport on the Toronto Islands and Ontario Place virtually across the street.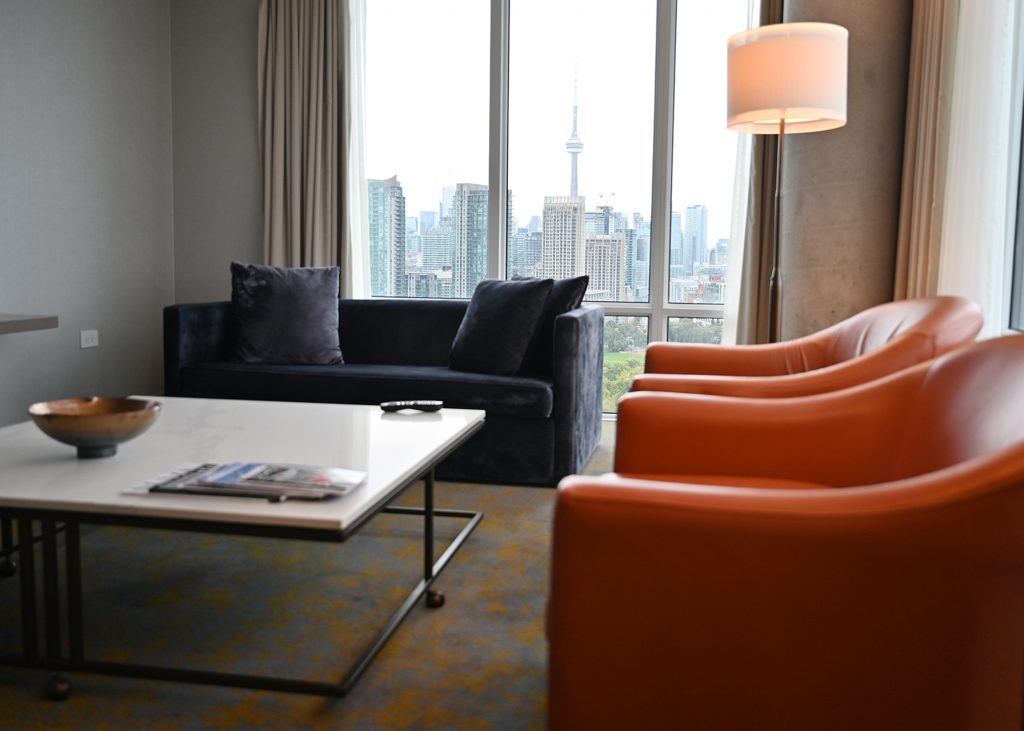 As many families do, we've travelled to Toronto for a special event — to see one of the Toronto Symphony Orchestra's regular film screenings accompanied by live score, specifically Star Wars. Since we've come from Ottawa, we're making a family getaway weekend of it, including trying out Hotel X's family-oriented urban resort concept.
Unfortunately, we've arrived too late on a Friday night to take advantage of the private film screening rooms, but as anyone with a young family knows all too well, mom and dad don't get to skip Saturday morning wake-up call — three swimsuit-clad youngsters hover bedside at the crack of dawn.
So, despite November temperature hovering around zero, we're off to the year-round, rooftop, heated pool. Fortunately for Dad, the water is plenty warm enough to counteract the cool autumn air, and the kids have a grand time frolicking, oblivious to the bonkers views afforded of Lake Ontario and the sprawling metropolis to the west. An adult can easily imagine more age-appropriate fun at the adjacent Falcon SkyBar later in the day.
Refreshed and wide wake, we head down to the second floor for breakfast at Maxx's Kitchen, one of two on-site eateries (the second, the upscale Pétros82 Mediterranean restaurant and raw bar, overlooks Stanley Gardens). Our crew all partake of the delectable options from the all-you-can-eat brekkie buffet (you can also order à la carte) at Maxx's — also open for lunch and dinner — while watching planes land and take off from the nearby island airfield.
As we head back to our room to prep for a day of offsite activities (see list below), Zev, unbeknownst to him, parrots the property's aim for groups like ours: "This place is like a resort. You don't ever have to leave." Well played, Hotel X. Well played. And the kids haven't even hit the highlight yet.
That comes the next morning as we head to the facility's 90,000-square-foot 10XTO athletic centre, with amenities available to hotel guests. The centre, encased in floor-to-ceiling glass, boasts four indoor tennis courts, nine squash courts, state-of-the-art gym equipment and fitness classrooms. It also includes a youth lounge with pool table and arcade games, ping pong tables, half basketball court and the Topgolf Swing Suite, where up to eight people can virtually work on their golf game.
After an hour of teeing off, my trio run themselves ragged flitting from ping pong to basketball and back again. And again. And while we didn't partake, there's also a 3,000-square-foot play centre, with play area, toys, books and video game consoles for younger kids.
By the time we check out just before lunchtime on Sunday, Hotel X has delivered the family experience every parent ultimately wants: kids eager to rest weary heads, worn out from all the fun.
Family fun in Toronto
If you simply must leave the comfort-filled confines of Hotel X, Toronto certainly doesn't lack opportunities for family fun. Here are the spots that my trio (ages 7 to 12) favoured.
Ripley's Aquarium of Canada
Even though we'd been just two years earlier, my gang insisted on a return to the massive aquarium at the base of the CN Tower with its 5.7 million litres of fish tanks, home to more than 16,000 marine specimens from around the world. While there's intrigue around virtually every corner, the absolute highlight is the Dangerous Lagoon gallery, where a moving sidewalk is just about the only thing that can pull one away from the huge sharks, massive green sea turtles, sawfish and other marine animals that swim over your head and alongside you.
Ontario Science Centre
Now in its 51st year, the uptown facility is a trove of hands-on, interactive exhibits that encourage kids (of all ages) to explore a wide-range of scientific concepts. Highest parent praise: this adult tired of exhibits long before his flock.
Hockey Hall of Fame
If your crew counts among its members any with even a passing interest in Canada's national winter sport, this downtown shrine to puck-pursuing greatness won't disappoint. My team was as eager to learn about the legends, records, stories and trophies as I was to relive those of my generation. And the interactive games are a big hit, too.
Wayne Gretzky's Toronto restaurant
The fare is family friendly, and truth be told, the collection of the Great One's memorabilia is as great, or greater, here than at the Hockey Hall of Fame. There's the expected — jerseys, sticks and skates from his team stops — but also unexpected treasures, like his Barbie-doll-sized action figure, a number 99 Toronto Argonauts jersey (from when he was a team co-owner) and cereal boxes he graced. Don't miss out, though — Gretzky's is slated to close in late 2020.