When I hear that self-driving cars will dominate the future of road transportation, I can't stop thinking about an obvious blind spot: everyone loves a road trip. Independence on an open road is all about the journey, not an AI-navigated destination. My best travel moments have often been the result of spontaneous stops, quirky roadside attractions and unexpected detours. Over the years, I've been fortunate to drive the full width of Canada and conquer the Big Lap of Australia, along with dozens of road trips on every continent (Antarctica needed a boat!). Here's what I learned along the way.
1. Pack less
True for road trips, true for all travel. We overestimate what we think we'll need, forgetting that we can usually get what we actually need along the way. Remember: you can stay in the same place every day and change your clothes, or wear the same clothes every day and change the place. Keep it light, and spare yourself a time-draining Tetris packing challenge every morning, especially if you're only spending one or two nights in each location.  
2. Play it safe
My grandfather used to say: "if you're in a hurry, take the bus." Speed and aggressive driving might save you a little time — or ruin your life. If a slow vehicle drives you crazy or another is tailgating you, find a pull off, stretch your legs, take a break to breathe. Be wary of overtaking on blind hills and corners and drive for the conditions. You'll know when it's safe to floor it (hello beautiful dual-highway New Brunswick), otherwise use cruise control to keep your speed constant, save gas, avoid speeding tickets and make the journey more pleasant. Pull over when your eyes get heavy or switch drivers. Life is not a race. And neither is a road trip.
3. Be curious
Somewhere on the loop around Lake Superior I passed a sign that read: Yellow Brick Road. How could I not brake for that? Epic road-trips embrace the spontaneous, giving us space to explore our curiosity. Signed viewpoints are usually worth the stop. Quirky road stops might be a waste of time or they might well be an unexpected highlight of your journey.
4. Talk and listen
My wife and I call the car the "psychology box." There's something about the open road that invites intense conversation and often profound personal realizations. If that fails or gets tired, queue up some engaging podcasts, an audiobook or a road-trip playlist. I can still hear the songs that played on my mix cassettes when I drove across Scandinavia 25 years ago. The right music accentuates the landscape and enhances the adventure.   
5. Watch your gas
Fill up when you can. It's never worth running out of gas because you're pretty sure you can make another 10 clicks. Getting stuck in the middle of nowhere isn't nearly as much fun as it sounds, especially in bug season (hello Labrador). While we're at it: never pass up the opportunity to use a restroom.
6. Be prepared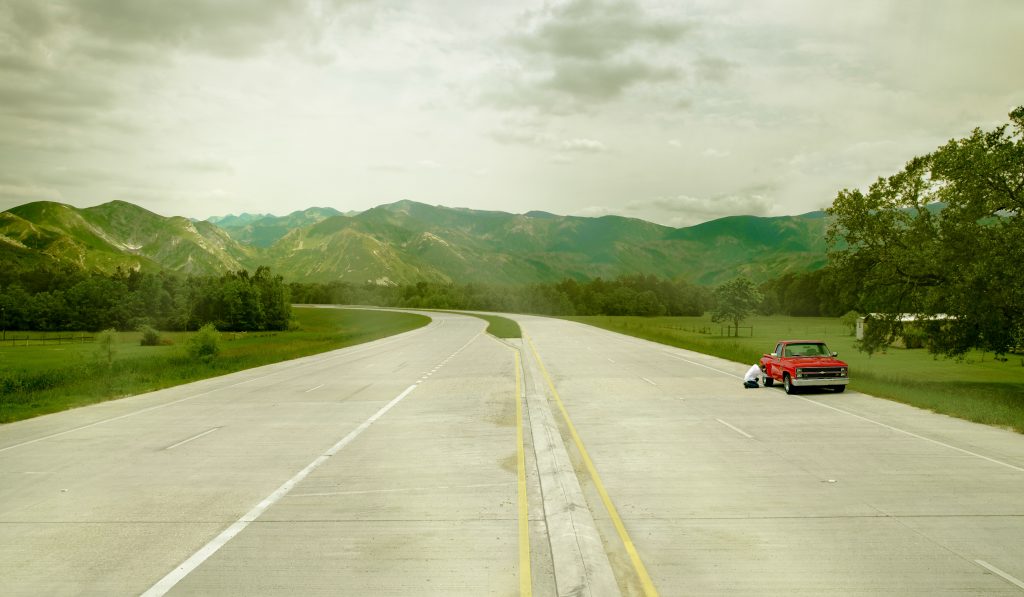 For peace of mind, roadside insurance is worth its annual fee. Have your vehicle checked out before a big trip: air in the tires, fluids topped up, a spare in working order. Winter road trips should include emergency supplies (water, food, warmth). Modern vehicles often have issues with jumper cables. One of my best purchases has been an inexpensive portable battery charger for jumpstarts, which doubles as phone charger, flashlight and power bar.
7. Keep the kids happy
Road trips with young kids can be fun or a special vision of hell. It's worth listening to a kid podcast or playlist on repeat if it keeps them quiet. We don't do screens in the back, although it works for others. If your kids are prone to car sickness, give them medication before taking on the mountain passes. Try not to push more than five hours driving on any single day and stop every two hours. Look for playgrounds in small towns to release some energy and make some local pals. Make sure your wipes, tissues and snacks are easily accessible.
8. Get comfy
A week or two in a vehicle adds up fast. Keep a garbage bag handy for wrappers, throw in a pillow or neck rest for naps. Have your sunglasses, water, GPS, snacks and maps handy. If you're travelling with a lot of stuff, consider towing a trailer to free up more passenger space and make the cabin easier to manage.    
With our excellent and well-maintained road network, Canada is particularly inviting for epic road trips. Self-driving cars might yet dominate urban centres, but the freedom of a big sky and open road will continue to steer memorable journeys for decades to come.