Parks Canada calls Ivvavik National Park's base camp one of their most accessible arctic experiences. With heated tents and flush toilets, you can explore wildest Canada without suffering.
Guests fly from Inuvik, N.W.T. via charter flight into the Yukon, landing a few steps from camp.
Base camp
To minimize environmental disturbance base camp is located within the footprint of a former gold mining camp. Six prospector tents sit on a ridge above Sheep River; each has wooden bed frames (some queen, some bunk), soft mattresses and pillows. There are mosquito nets to keep bugs out and a propane heater to hold back the cold.
A short distance away you'll find flush toilets and a hot shower, a rarity in this remote landscape. An electric fence keeps bears away but you're asked to reduce attractants by storing toothpaste, toiletries, and snacks in a metal locker.
In the modern dining building a cook prepares three hearty meals each day (non-catered guests bring and cook their own food). Snacks are available 24/7 as is filtered water. Outside the building there is a screened sitting area and a wooden deck with a 360-degree-view, perfect for looking for wildlife.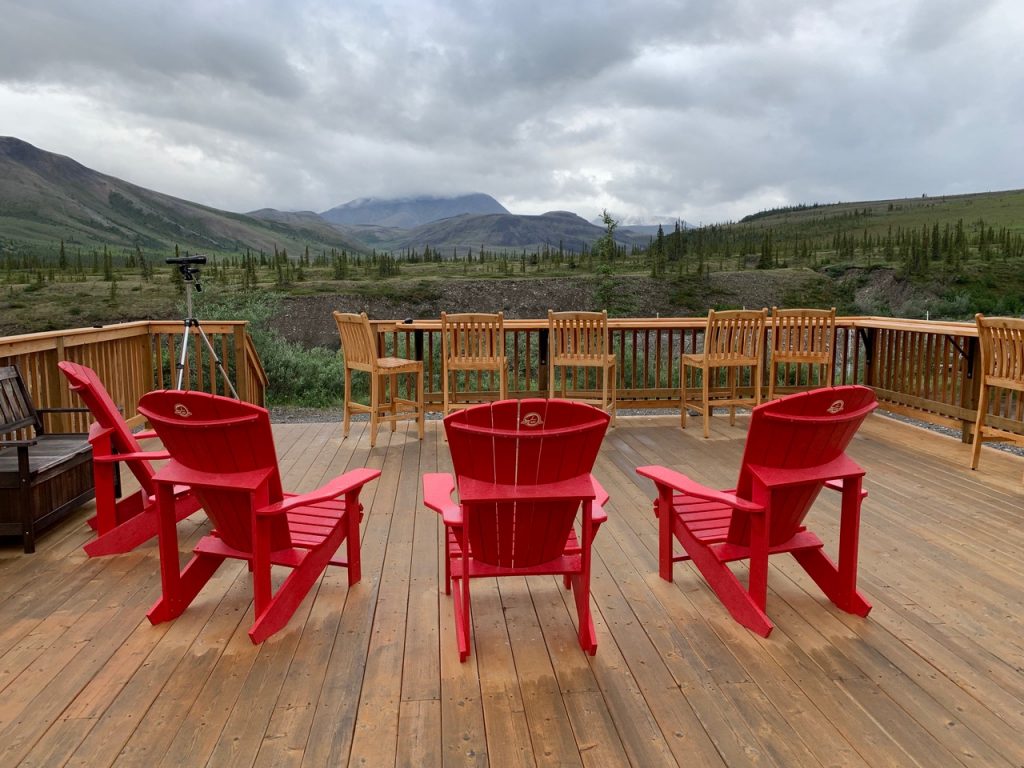 Inuvialuit cultural program
In 1984 Ivvavik National Park became the first national park to be created from an aboriginal land claim settlement; it's co-managed by Parks Canada and the Inuvialuit (Inuit living in Canada's western arctic). An Inuvialuit elder stays at camp with visitors, answering questions on Inuit life, sharing stories, or judging a bannock bake-off.
You can also try traditional crafts like soapstone carving, embroidery, or beading. The rhythm of polishing stone or threading a needle through sealskin will keep you from missing WiFi.
What you see
Ivvavik means nursery in Inuvialuktun and the Porcupine caribou herd — one of North America's largest migratory populations — has its calving grounds in the park. You're unlikely to be at camp the same times as the herd but you may see stragglers and on rare occasions, big groups are spotted.
If you bring a fishing license you can cast your line and hope for a Dolly Varden or arctic grayling.
With no sunset from late May until July 20 there's time to photograph the British Mountain range or scan meadows for Dall's sheep and moose. If you want to explore beyond the fence, plan a hike.
Hiking hacks
Each day Parks Canada staff arranges hikes to suit guest mood and fitness. There are no trails, so bring rivers shoes for water crossings. The first day's hike is usually shortest — perhaps Sheep Slot canyon — giving you time to build hiking muscle.
The five kilometre hike to Inspiration Point reveals V-shaped valleys and castle-shaped rock outcrops or 'tors', signs this landscape missed the ice age. This is part of Beringia — an area stretching from Siberia to the Yukon that contained the land bridge between Alaska and Siberia — and once home to woolly mammoths.
The difficult 11 kilometre Halfway to Heaven climb is saved for the last day. The rugged trail offers mountaintop views and proof a visit to Ivvavik National Park brings you closer to outdoor bliss.