For more than half a century, the United States' embargo on Cuba largely prevented Americans from visiting the island, but as the slow thaw in U.S.-Cuba relations continues, it seems as if Cuba is on the cusp of irrevocable change.
Canadian visitors, who have long been free to flock to Varadero or Manzanillo for beach holidays and tour Havana's frozen-in-the-1950s streetscapes, will not feel or see the transformation of the country as keenly as Cubans, of course, but they can expect change. Exactly what that will look like, however, is hard to predict — which is where Peggy Blair comes in.
In this piece of speculative fiction, Blair, the author of the acclaimed Inspector Ramirez novels The Beggar's Opera, The Poisoned Pawn and Hungry Ghosts, imagines Ramirez making his way through a transformed, post-embargo Havana.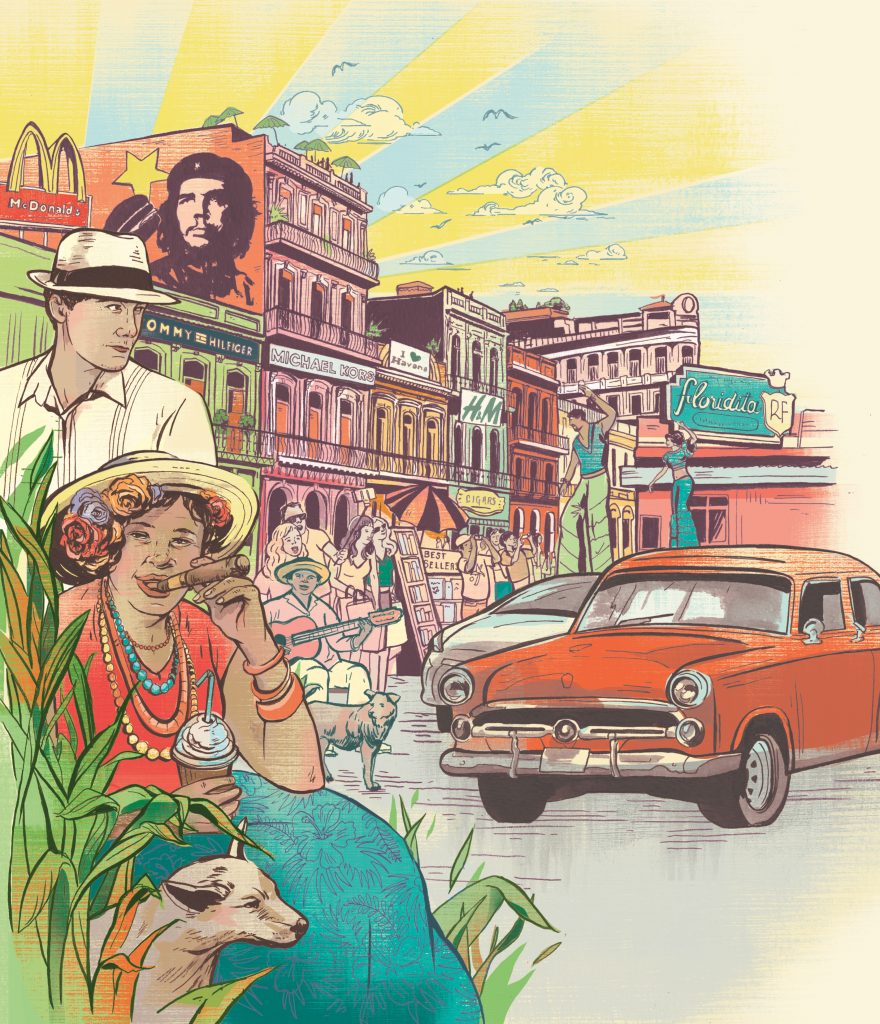 Inspector Ricardo Ramirez pressed through the throngs of sunburned tourists on Calle Obispo, all laughing and chattering as the owners of galleries and shops called out to them with the songs of Sirens. He glanced inside the bar of the El Floridita, as he always did. Hemingway's ghost was said to haunt the hotel, but as always, Ramirez was disappointed. For years, he'd seen the murder victims of his unsolved cases, but then again, Hemingway had committed suicide.
Ramirez strode past an array of art galleries, boutiques and souvenir shops, and by the open-walled apothecary with its charming display of glass bottles. He ducked between the legs of one of the members of a mime group who staggered toward him on stilts, ignoring the lethargic stray dogs, the ubiquitous beggars, the cigar ladies who held fluttering fans over their faces, ready to drop their coy shyness and be photographed in exchange for a few pesos; he didn't want to be late.
He quickly made his way to the Plaza de Armas. It was a beautiful square where dozens of booksellers sold used books from their stalls in the shade of the kapok trees. For years, inventory had been limited to old works about the revolution or Catholicism but now it was mostly novels: John Grisham, James Patterson, Clive Cussler, all in English.
So much had changed, Ramirez thought. Ten years ago, most visitors to Cuba had been Canadian or European. Now millions of americanos came to Havana every year, hoping to find sun and a taste of Hemingway. Giant cruise ships slipped into the harbour daily, discharging thousands of passengers until the city was practically overrun with them like rats.
To cater to the influx, all over Havana, brand new hotels had sprung up like puffballs after a heavy rain.
The iconic 1950s Chevys that once darted around Old Havana like brightly coloured fish had been replaced with newer ones, although to most Cubans, "new" still meant anything after the 1960s. But the air quality was better, Ramirez thought, no longer fouled with the thick black exhaust of ancient vehicles held together by magicians who posed as mechanics.
So much had changed, Ramirez thought. Ten years ago, most visitors to Cuba had been Canadian or European. Now millions of americanos came to Havana every year, hoping to find sun and a taste of Hemingway.
Old Havana, a UNESCO heritage site, was part of his jurisdiction as the inspector in charge of the major crimes unit of the Cuban National Revolutionary Police, Havana division. It was more beautiful than ever, Ramirez thought, thanks to all the American money that arrived along with the paperbacks.
American currency was once again legal tender, and worth far more than Cuban pesos. Fernando Espinoza told Ramirez that the last time he stopped an americano, he found a crisp $20 tucked inside the man's driver's licence. The man winked at him and grinned as if that would take care of the problem. "I gave it back to him," Detective Espinoza said with an offended look and then chuckled. "I said, 'Where do you think you are? Mexico?' "
Ten years ago, thought Ramirez, 20 American dollars would have been close to a year's salary. But salaries had gone up; bribes, surprisingly, had gone down, and thanks to all the new restaurants and the end of ration cards, waistlines were increasing.
Perhaps the real revolution, Ramirez thought wryly, wasn't when Fidel Castro deposed one dictator, Fulgencio Batista, only to replace him with another. No, it was what Hector Apiro, the former pathologist on call to Major Crimes, Ramirez's best friend, and the man he was off to meet for coffee, now jokingly called the "American Revolution."
***
The new Havana boasted high-end shops like Tommy Hilfiger and Michael Kors, even though few Cubans could afford to shop there. Americanos, Ramirez had discovered to his surprise, seemed to prefer stores just like the ones they'd left behind.
He strode past the San Carlos y San Ambrosio Seminary, another gorgeous stone building built by Jesuits in the mid-1800s. Behind it, on the other side of the harbour, was the Castillo de la Real Fuerza, a Spanish fortress built in 1589, and one of four forts that guarded the entrance to the harbour.
La Giraldilla de La Habana stood atop the Castillo's tower. A bronze figure with long braids, she held a palm tree in one hand and a cross in the other, eyes on the ocean, searching for her missing husband. Governor Hernando de Soto was declared lost at sea and then La Giraldilla replaced him as governor, which sometimes made Ramirez think there was a cold case out there, just waiting to be solved.
Between the seminary and the seaway was a market with an assortment of stands that sold art, crocheted women's tops, coral necklaces, African masks and brown seed bracelets, although a lot of the items were now made in China. Bizneros — hustlers, or as they preferred to call themselves, "entrepreneurs" — had discovered the role of the middleman meant less work, more profits. Even Apiro had returned to his plastic surgery practice. "It's better pay, Ricardo, although I much preferred operating on the dead," he chortled. "Less risk of complications; fewer complaints." The fact that Apiro was a dwarf didn't seem to deter turistas from visiting his office, and why should it? He was one of the best.
Ramirez jogged across the Malecon and dodged a coco-taxi, one of the round yellow cabs mounted on a moped. If one ever did hit him, he thought he'd probably stand up and brush himself off, but it would roll down the seaway like a tennis ball.
The ocean was a rich turquoise today, a deeper blue than the sky. All along the seawall, musicians serenaded tourists with trumpets, guitars, saxophones, homemade instruments, their hats overturned on the cracked sidewalk at their feet like collection plates. He heard drifts of lively rhumba music, a blast of Carlos Santana from a car radio.
He frowned as a hustler followed a female tourist, loudly cajoling her to part with some of her money. A young policeman dressed in the light blue of the Cuban National Revolutionary Police stood on the corner, eyes alert, ready to pounce, and tapped the top of his long black nightstick with the heel of his hand. The hustler backed off, palms up, laughing: No harm done, Ramirez smiled at the policia and tipped his hat.
With the medical towers now in sight, he slowed to a quick stroll. He marvelled at all the restoration work underway along the seaway. Buildings that had once been in a perennial state of collapse were being resurrected; soon, they'd be reborn. Apiro would say it was almost Catholic.
Francesca had called him earlier to tell him that government workers had replaced the warped front door they'd lived with for their entire married life. "This one closes!" she said. Even the medical tower where Apiro worked had been renovated; the main level now had a coffee shop open to Cubans, where Ramirez was meeting his friend.
For decades, coffee rations had been cut with chickpea flour as efficiently as if the bureaucrats responsible had been trained by Mexican drug dealers. But now that rationing had ended, unadulterated coffee was no longer a treat reserved only for turistas.
Apiro had gone on his first holiday, to Pinar del Rio; he wanted to show Ramirez the pictures he took with his new camera. It was Apiro's first time on the train.
With the exception of the Trens France, most Cuban trains had been built to transport sugar over a century before. Even the newer ones from Russia that were only 40 or 50 years old lacked air conditioning. Despite the fact that they had no bathrooms and the seating was uncomfortable, tickets were expensive. Cubans called the trains casas de guano, houses made of money.
Apiro and Maria, his girlfriend, took a tourist bus — another first — to Viñales, another UNESCO heritage site, and from there to Dos Hermanas, the Two Sisters, to see the famous Mural de la Prehistoria. The mural, commissioned by Fidel Castro, was painted on a cliff on the side of a mogote, one of the unique rounded mountains found in Cuba that resembled green pincushions.
"I'd always wanted to see that painting," Apiro had said on the phone. "I never thought I would." Among his many other interests, he was an avid student of prehistory. But Cubans had not been allowed to go there until recently; like most attractions, it had been for tourists only.
"So what's it like?" Ramirez asked. He knew that Leovigildo González, a student of Diego Rivera, had completed it in 1961 with the help of 20 or 30 locals; Fidel hoped it would draw foreigners.
"It's incredible," Apiro chortled. "And I mean that literally. It's over 400 feet high and 600 feet wide. It's supposed to show the evolution of man. But apparently evolution began with snails, then red and yellow dinosaurs, and finally two long-haired Indians, a man and a woman, with bright red skin. Evolution! At first, I laughed. Then I cried."
Ramirez smiled as he walked up to the front door of the medical centre. He could imagine Apiro's dismay; after all, his friend was a man of science. He pushed through the revolving door, swept his eyes around and spotted Apiro trotting toward him, grinning, bearing two steaming cups of Starbucks coffee.