The soul of New Orleans is housed on St. Peter Street, at number 726. A mottled green-and-brown building, it's not especially pretty — unlike its more elegant counterparts in the French Quarter, whose delicately filigreed ironwork balconies are often festooned with flowers and Mardi Gras beads. Indeed, it looks condemned. But make no mistake — tonight Preservation Hall, the famed jazz venue, is alive. Its timbers are inhaling and exhaling to the sounds of the Preservation Hall Jazz Band, who are playing a special midnight show as part of the city's annual Jazz & Heritage Festival. Horn players, by the way, do sexual innuendo like no one else.
"I'm unclear on this, Fred," says trumpeter Mark Braud to trombonist Freddie Lonzo. "Do all trombone players have long slides?"
Lonzo waits a beat before answering: "Potentially." The eight-piece band picks up again. Sousaphonist Ronell Johnson begins to bop and bounce. Ben Jaffe swings along with him, the bell of his sousaphone only partly hiding his impressive shock of corkscrew hair. Charlie Gabriel, who at 82 is the band's oldest member, remains seated, head bowed, working the keys of his clarinet. Braud stands, squints, puffs his cheeks and lets slip a long note that reaches into the audience, snakes through the hall and out into the street, where it rises over nearby Bourbon Street's raunch, above the neon signs of the po'boy sandwich joints and the shops selling voodoo souvenirs, beyond manicured Jackson Square and out across the Mississippi.
On nights like this it can seem like there's nowhere more glorious in New Orleans than the French Quarter. Despite the tourist tat, drunk conventioneers and frat boys, it feels like the beating heart of the city that Jean-Baptiste Le Moyne de Bienville, a French-Canadian explorer from Montreal, founded 295 years ago when he and his men began clearing a canebrake somewhere in the 78 square blocks that is today's "quarter," as locals call it. Its narrow, ruler-straight streets lined with a mishmash of architectural styles painted in vivid ochres and pastels beckon you to walk them and seek sustenance: a Pimm's Cup from the bar at Napoleon House, once home to former mayor Nicholas Girod, who is said to have offered refuge to the exiled French emperor in 1821; bivalves and an Abita beer at Felix's Restaurant & Oyster Bar; a paperback from the tiny and perfect Faulkner House Books, named for the Nobel laureate author who rented rooms here in 1925.
Of course, there's more to New Orleans than the French Quarter. While the city's other districts may not have the same evocative sense of faded grandeur, they do have their own stories — tales as revealing as anything you might witness on Bourbon Street.
The soul of New Orleans is standing outside his lime green- and-orange shotgun house on Desire Street, lamenting the loss of stoop-front culture in the Bywater, a neighbourhood east of the French Quarter that's been his home since 2004. At 51, Alton Osborn is old and wise enough to accept that times change. But that doesn't mean he has to like it.
"That doesn't happen as much anymore," he says, looking back at the men who'd greeted him with a "Hey, how you doin' big man?" as he passed. "I miss that neighbourly thing." Osborn, a clothing designer, says he remembers the day in 2005 when everything shifted in the neighbourhood. "Katrina changed it all for New Orleans," he says. "On 8/29, that was the big one."
Even though local homeowners were in the "sliver by the river" — the high ground on the Mississippi's banks that avoided the worst of the hurricane's flooding — the area's demographics changed afterward. "The storm came and it was like an ethnic cleansing," Osborn says. "This used to be a really very black neighbourhood, with lots of families. But because there wasn't enough damage here that people lost everything, it was more like 'Here's a chance to sell my home and make double or triple the value of the property.' Who wouldn't do that?"
When former residents moved out, younger ones moved in, and the slow trickle of gentrification picked up pace, turning the once unsafe neighbourhood into a bohemian-hipster enclave dotted with restaurants, cafés and shops, including Osborn's own, Desire. "I never thought I could do retail here," he says. "There was a time when you couldn't ride your bike down here without getting rolled, day or night. Now everyone's an artist or a jug player — you know, that Appalachian kind of stuff."
While Osborn's business-owner side welcomes the increased traffic, his native New Orleanian side doesn't appreciate the attitude that can come with it. "In this city, you always say hello to your neighbours," he says. "Maybe these people just don't say hello where they're from. But it's what you do here."
Osborn may see younger and less friendly faces ambling into places such as the Satsuma Cafe and dropping $10 on a 16-ounce "Popeye" juice (spinach, lemon, kale and apple) with a shot of wheatgrass, but the same people are also helping keep "old" Bywater alive. They buy fried-oyster po'boys at Frady's. They down ripsnorting Moscow mules made with freshly grated ginger at Vaughan's. They watch R&B rockers King James & The Special Men blow the clapboard off BJ's Lounge on Monday nights.
For now, the future of the Bywater doesn't hang in the balance. But like other parts of the city since Katrina, the neighbourhood is engaged in a balancing act, one that sees some longtime residents wanting to protect a way of being, and relative newcomers trying to make a place their own. "Cities do change, but this one hasn't for a long time," Osborn says. "It's so old and there's a fragility to it. But I'd rather be in the Bywater than anywhere else."
The soul of New Orleans is behind a city block of faded brick wall bounded by Basin, Conti, St. Louis and Tremé streets. It's been here since 1789, when the first bodies were laid to rest in St. Louis Cemetery No.1, the city's oldest surviving graveyard.
There are more than 40 of these historic "cities of the dead," as New Orleans' cemeteries are known, and each can tell you as much about the city's geography, history and culture as any neighbourhood in town.
Prior to the establishment of St. Louis No.1, bodies were interred. That was a problem because much of the city is either at or below sea level, so when it flooded, coffins — and bodies — would emerge from the waterlogged earth. St. Louis No.1 was the first cemetery in New Orleans to feature above-ground burial, in ornate brick-and-plaster tombs that are a distinctive feature of the city, as well as in vaults in the cemetery's walls. This protected the coffins from flooding and allowed families to reuse the tombs, a practice that continues today.
"They kept bodies in here for a year and a day," says Robert Florence, founder of Historic New Orleans Tours and author of New Orleans Cemeteries: Life in the Cities of the Dead. "That was about the time it took for them to decompose. The first thing you see when you open these up is bugs — lots of bugs." Whatever remains is removed temporarily and later placed back inside the vault or, in the case of a tomb, in a chamber in its foundation.
Florence has played a major role in helping preserve the city's cemeteries, and as he ambles through this one he points out some famous inhabitants: Homer Plessy, the defeated plaintiff in the 1896 Supreme Court case Plessy v. Ferguson, which helped establish legalized segregation in the United States; Isidore Barbarin, the legendary bandleader whose descendents still influence the city's jazz scene today. "And here's the tomb of Marie Laveau," Florence says, "the reigning Voodoo priestess of the 19th century." He nods at the triple-X markings on the tomb. "People use bricks from other tombs to leave these marks, thinking her spirit will grant their wish, but many sincere Voodoo practitioners say this is blasphemous."
Florence is proud of his preservation work, but with the burial rate in St. Louis No.1 declining, he worries that a New Orleans tradition could disappear. "You get urban blight when people don't live in houses or use them," he says. "It's the same for these cemeteries. Preservation's great, but I want to see them continue to be used, because they reflect this city of the living."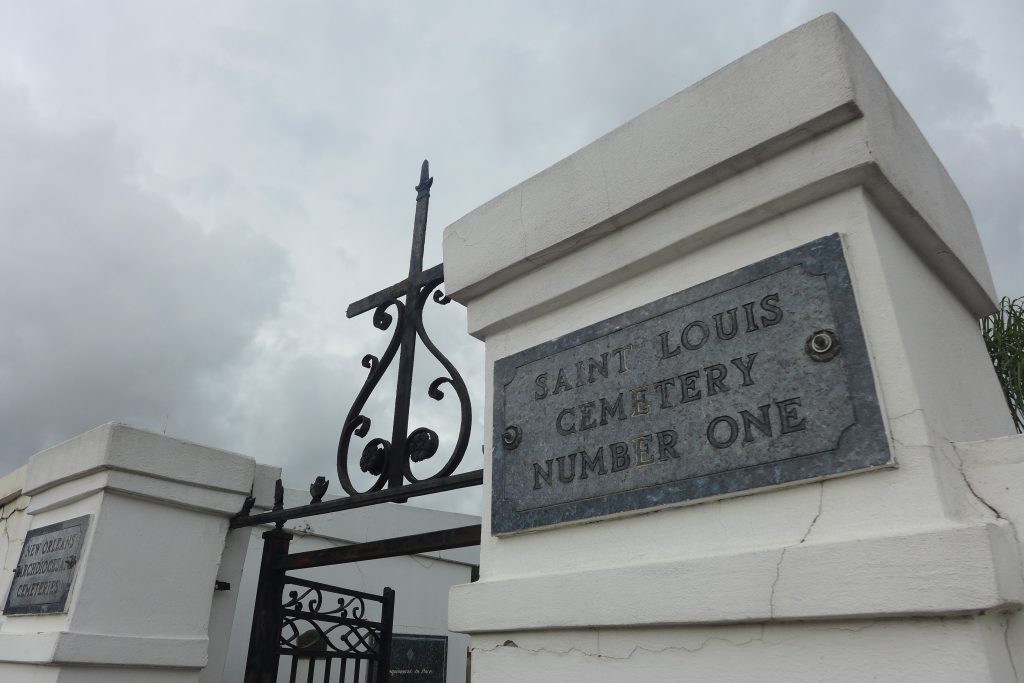 The soul of New Orleans is a tourist trap — or at least it used to be more than 200 years ago.
After the United States purchased the Louisiana Territory from France in 1803, slaves who had once danced, sung and drummed in markets on Sundays were banned from doing so, except in Congo Square, just inside the main gates of what today is Louis Armstrong Park, in a neighbourhood called Tremé.
"Unwittingly, the Americans created a sensation," says John McCusker, an author, photojournalist and historian who runs the New Orleans Jazz History Tour. "Instead of seeing 50 Africans dancing at one market, you could go to Congo Square and see 500. It became the must-see thing when you came to New Orleans."
Although these gatherings ended before the Civil War, their call-and-response singing and drumming style influenced the brass bands that had become all the rage in New Orleans by the 1880s. "It's out of these brass bands that your future jazz musicians arrive," says McCusker. "People like Joe Oliver, Louis Armstrong and Kid Ory."
The park and Congo Square are still focal points for jazz, as is Tremé, the musical reputation of which has only been burnished by the HBO show of the same name. The southern reaches of the oldest African-American neighbourhood in the United States include venues such as the Candlelight Lounge, where the Tremé Brass Band plays every Wednesday. And don't miss the Backstreet Cultural Museum, which showcases black street culture, including jazz funerals and the "second line" parades that come with them.
McCusker's links to the neighbourhood, however, go beyond jazz. As he strolls down North Rampart Street and talks about the final season of Tremé (in which he appears as a news photographer), he pauses outside number 1035. "This is where my grandmother lived," he says. "Walking by here makes me feel connected to the place, like it's part of who I am."
But like the Bywater before it, Tremé is in flux, and that makes McCusker somewhat uneasy. "It survives but it's not like it was. This is just the newest wrinkle," he says, pointing out the antebellum-era houses being remodelled on Tremé Street, and several out-of-state licence plates. "I also feel optimistic, though," he adds. "Ten years ago it wouldn't have been safe to walk here. I just hope the folks who came in to volunteer after Katrina and stayed are here for the long haul. I hope they're here to enjoy and be a part of what we are, not reform us or save us from ourselves."
The soul of New Orleans is wherever you happen to find it. Or wherever it happens to find you. Maybe that won't be the French Quarter, the Bywater, a graveyard or Tremé. But wherever you encounter it, remember this: as resilient as this city has been over its nearly 300-year history, it's still a delicate, precarious place. So revel in it and celebrate it, but nurture it too. To paraphrase Louis Armstrong, know what it means to miss New Orleans.
A gourmand's paradise
When it comes to food and drink, New Orleans offers everything from hearty po'boy sandwiches and Cajun specialties to delicious local traditional cocktails and beers. Here's a list of some great places to try.
French Quarter  Satisfy your seafood fix at the slightly hectic Acme Oyster House. For traditional Louisiana cuisine — think gumbo and blackened catfish — make for EAT New Orleans. Burger connoisseurs must try Port of Call's patties, while sandwich fans shouldn't miss the dizzying selection at Johnny's Po-Boys. For drinks, try Bar Tonique, where the cocktail wizardry includes a mean sazerac, and Napoleon House, where a Pimm's Cup is de rigueur.
The Bywater  The Joint does some of the best barbecue in the city: chicken, pulled pork, brisket, ribs and sausage are all cooked to mouth-watering perfection. Bacchanal, meanwhile, serves excellent tapas-style dishes, has a knockout wine selection and one of New Orleans' best courtyards. For a quiet afternoon drink, try the charmingly ramshackle Vaughan's or BJ's Lounge.
Tremé  Get greasy at either Li'l Dizzy's Cafe or Willie Mae's Scotch House, where scrumptious fried chicken and classic soul-food sides such as cornbread and red beans and rice are faves. Kermit's Tremé Mother In Law Lounge and the Candlelight Lounge are good bets for a drink.
Harry Wilson (@MrWilsonH) is the editor of Canadian Geographic Travel, where this story was originally published in November 2013.