For nearly 90 years, Canadian Geographic has been encouraging Canadians and the world to discover the best our country has to offer. In celebration of 2018 as the official Canada-China Year of Tourism, we teamed up with Innovation, Science and Economic Development (ISED) Canada to host the Show Us Your Canada photo competition.
We asked you to share with us your best photos of Canadian parks, city life, people enjoying the great outdoors, and Indigenous places and cultural celebrations — and the response was overwhelming. More than 4,600 images were submitted to the competition, meaning we had some seriously tough decisions to make when it came time to pick the winners. The photos below represent the best of the competition according to our judges: Javier Frutos, Can Geo Director of Brand and Creative; Derek Mellon, ISED Media Relations Manager; and Gabriel Rivett-Carnac, an Ottawa-based photographer and content creator specializing in travel and tourism. 
Canadian Geographic gratefully acknowledges the support of our prize sponsors: Air Canada, VIA Rail Canada, and Parks Canada.
Watch the Hon. Mélanie Joly, Minister of Tourism, Official Languages and La Francophonie, announce the winners below in English and French, and scroll down to learn more about the winning images. 
Grand Prize: Annie Fu, Calgary
"While hiking on the Parker Ridge Trail in Banff National Park with my family, we came upon this amazing landscape of wildflowers and endless mountains. We decided to stay late to watch the sunset. Due to the wildfires in B.C., the sky was really smoky and turned an incredible golden red.The wildflowers were blooming all over the mountain, waving in the wind, and my 10-year-old son went running down across the meadow. I set up my camera and shot a series of photos to capture the moment."
Winner, Parks: Jerry Shao, Calgary
"As a Calgarian for over 17 years, I love to drive into the Rockies every weekend. The morning after a rainfall, my friends and I headed out early to catch some nice photos with mist and fog. As we drove on the Trans-Canada Highway past Banff, the scene started to get very dreamy: the soft morning sunlight tore the mist apart and lit up Castle Mountain in the distance. Meanwhile, the SUV in front of us was perfectly positioned in the foreground. I took out my 100-400mm telephoto lens and quickly snapped this shot.
"I particularly like this photo because it includes all the elements that represent how much we Canadians love to get out and enjoy our lands, lakes and mountains. As an immigrant, I truly believe this is the spirit of Canada."
Runner-up, Parks: Carl Pan, Calgary
"I took this shot at Sunset Lookout, a 1.6-kilometre branch off the Sunset Pass Trail in Banff National Park. I had planned for a long time to get this shot and finally made it after two hours of hiking with a 700-metre elevation gain!"
Honourable mention, Parks: Ryan Fisher, Kamloops, B.C.
The Milky Way rises above Helmcken Falls in Wells Gray Provincial Park, B.C.
Winner, Cities: April Carandang, Winnipeg
"I took this photo on July 1, 2018 at The Forks in Winnipeg, 15 minutes before the fireworks show. Despite the rain showers that fell that day, Canada Day celebrations went on as planned. The Winnipeg Symphony Orchestra and Mise En Scene were performing on the stage while the Winnipeg sign was lit up in Canada Day colours."
Runner-up, Cities: Dasser Kamran, Toronto
The Toronto skyline, seen from Centre Island, glows at dusk. 
Honourable mention, Cities: Kirsten Quist, Sherwood Park, Alta.
A Ukrainian choir embraces the cold and sings traditional Christmas carols at Edmonton's Ice Castles in -30 Celsius weather. The Ice Castles, which are created during the coldest months of winter in Hawrelak Park, are a place for families to enjoy the outdoors, explore beautiful icy architecture, and celebrate what Canada's winter has to offer.
Winner, Active Outdoors: Sofie Sharom, Ottawa
A group of skaters glides down the Rideau Canal Skateway in Ottawa on a cold, sunny winter afternoon.
Runner-up, Active Outdoors: James C. Swartz, Toronto
Three girls chase the gulls in Saugeen Shores, Ont. as the sun sets over Lake Huron.
Honourable mention, Active Outdoors: Justin Scaini, Toronto
"Canada is home to diverse cultures, religions, cuisines, and lifestyles, yet the one thing we all have in common is hockey. At some point in our lives, hockey touches every Canadian across every generation. This photo captures kids and adults playing pond hockey against the backdrop of Toronto's iconic city skyline. It's a perfect moment that is uniquely Canadian."
Winner, Indigenous Canada: Robin Luo, Markham, Ont.
A woman performs in the Fancy Dance competition at the Grand River Champion of Champions Pow Wow, held annually at Chiefswood Park in Ohsweken, Ont. Powwow dances are expressions of Indigenous spirituality, history and culture. Some dances are specific to certain First Nations, while others, like Fancy Dance, have been adapted by a number of communities and are practiced over a wide geographical area.
Runner-up, Indigenous Canada: Michael Winsor, St. John's, Nfld.
"I took this photo at Hebron, Labrador, which is south of Torngat Mountains Base Camp in Nunatsiavut. The community of Hebron was settled by Moravian missionaries in 1830 and is today a National Historic Site. [In 1959, the decision was made to close the mission, and the 58 Inuit families living in Hebron at the time were resettled in larger communities without prior consultation. A monument bearing their names and the text of an official apology for the forced relocation in English and Inuktitut stands at the site today. — Ed.]
"At the same time I was at Hebron, a group of Inuit were there working on restoring the 1831 church. They had their Labrador huskies with them. They're working dogs; they're used as a dog team in the winter and they also give warning when polar bears are nearby. But when there were fewer people around, they let them off their leads to run and play around. One of the Elders told me that while snowmobiles are the preferred mode of winter transport now, they can't find their way home in a snowstorm like the huskies!"
Honourable mention, Indigenous Canada: Mary Helmer, Skidegate, B.C.
"This photo was taken here on Haida Gwaii. My grandson Isaiah is dressed in full Haida regalia. We set out to do a photo shoot as the sun was setting in the inlet, recreating a scene from 100 years ago as children played on canoes that lined the shoreline."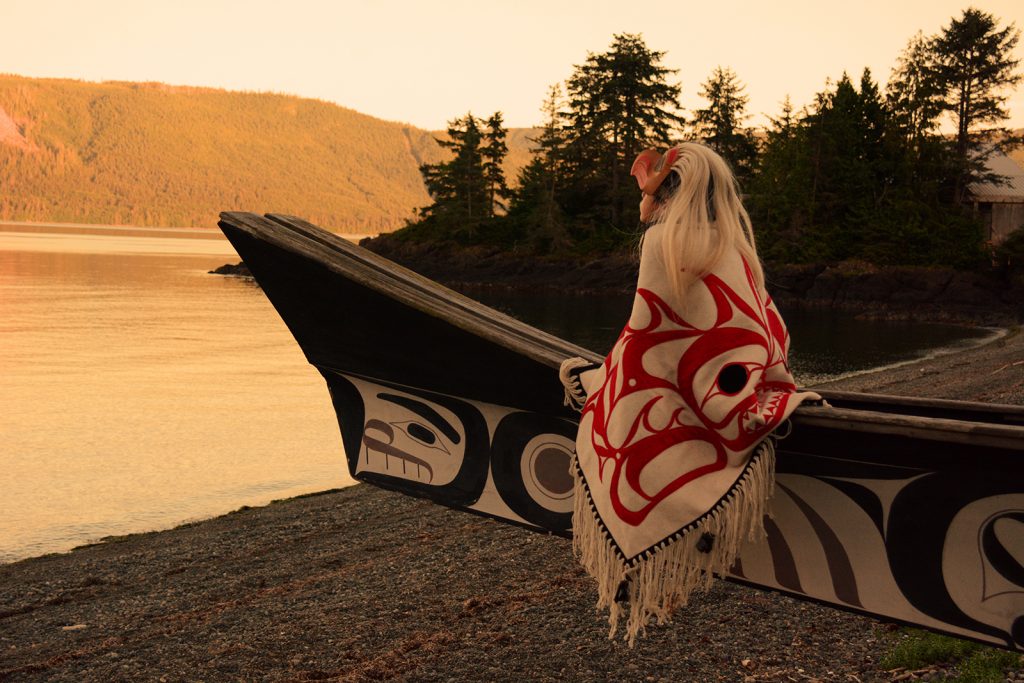 Winner, Youth (17 & under): Robbie Krysl, 17, Campbell River, B.C.
"This photo shows the view down one of the many fiords near Qikiqtarjuaq, Nunavut. A local Inuit man is resting with his dog team on their travels across the sea ice in late March."
Runner-up, Youth (17 & under): Owen Belanger, 17, Cochrane, Alta.
"I took this photo in the early morning in Banff National Park, along the Bow River. The temperature was around -32 Celsius and the beams of sunlight were shining through the fog off the river, silhouetting the trees."
Honourable mention, Youth (17 & under): Matthew Liew & Andrew Chen, 17, Surrey, B.C.
"This photo was taken by my buddy, Matthew Liew, and I did the post editing. We worked on this picture together. It's a peaceful and relaxing scene — an after-supper walk along the beach. The bike and the pier symbolize a sense of calmness and harmony, a wonderful day to unwind."