The turquoise water is still as glass and the sun is just starting to rise as I cruise with a group of sightseers down Florida's Crystal River in a flat-bottomed Carolina skiff. The boat stops to discharge us into water so clear and shallow you can touch the green sea grass swaying on the riverbed and see small grouper fish hiding in the fronds. In wetsuits, snorkels and masks, we bob and float downstream towards Three Sisters Spring, taking care not to make any sudden movements or thrash about.
We pass a skate, which I mistake for a sting-ray, and a school of silver mullet; a large snook with its distinctive yellow mouth swims by.
Then, seemingly out of nowhere, a manatee calf swims towards me. I practice the "freeze and float" technique and stay perfectly still. The baby brushes my wetsuit with his prickly nose. A metre and a half long and weighing about 180 kilograms, he is one of the friendliest and most curious creatures I have ever encountered. His eyes are cloudy blue, his skin reminiscent of an elephant's: thick, grayish brown, wrinkled and covered in hundreds of coarse body hairs. 
I've come to Crystal River hoping for just such an encounter with these gentle giants of the sea, whose closest relatives are not seals or dolphins as one might expect, but elephants.
From mid-November to late March, manatees come in from the Gulf of Mexico's cooler waters to King's Bay, headwater of the Crystal River, making this the largest manatee wintering aggregation in the United States. Shallow springs here ensure the water remains at 22 Celsius all year round, the temperature crucial to manatees' survival.
Many manatees have propeller scars from unfortunate collisions with boats in the Gulf, says Maddie Singer, our guide with Explorida Manatee Swim Tours.
However, here in the bay, boats can only idle, and the manatees, though functionally blind by human standards, can sense our presence in the water, and, apparently, hear our heartbeats from some distance away.
Before our departure, we watched a U.S. Fish and Wildlife Service video on manatee manners: Do not touch, feed, corner, poke or initiate contact with these creatures, which are designated a threatened species. Do not dive down; separate a mother and calf; or swim on top of them. If you violate these rules, you may be subject to a $100,000 fine and a year in jail.
So it goes without saying that I do not touch the calf I am lucky enough to encounter.
After a few minutes of prodding and poking, the calf loses interest in me, turns around and goes deeper into the spring, propelled by his powerful tail. He soon finds his mother, resting on the spring's shallow, silty bottom. 
About double the size of her offspring, the mother manatee rests on the river bed without moving. She could be mistaken for a huge grey boulder. Most adult manatees spend hours in this state, Maddie tells us, surfacing automatically every 20 minutes in a subconscious state to snort out water and take air into their set of double lungs.
Manatees must eat 10 per cent of their 450-kilogram weight every day to survive – and they only eat eelgrass. They conserve their energy for hours, then dash out on foraging journeys to feed on aquatic vegetation. 
It is amazing to think that the lineage of these languid herbivores goes back about 50 million years, when they had hind legs and lived on land. 
Curiously, they are fast swimmers when they need to be, yet have no natural predators; even large alligators give them the right of way.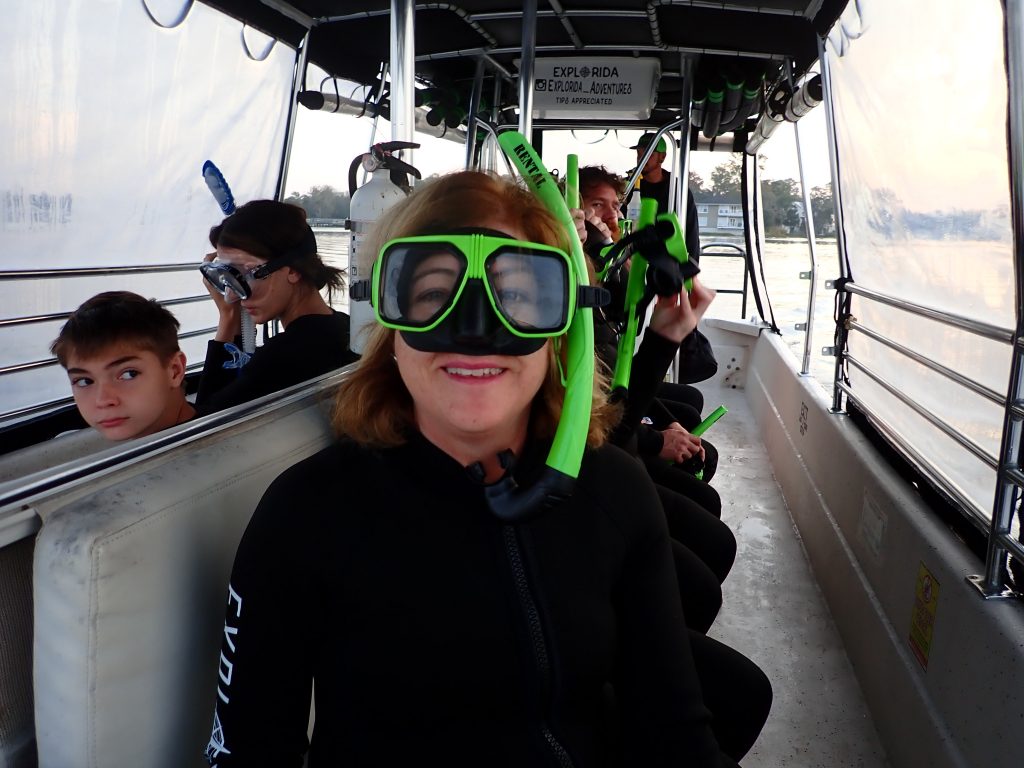 But manatees are vulnerable to human threats. Here on Florida's Gulf coast, their habitat is healthy for now; the springs have been designated national sanctuaries and some are closed off entirely to accommodate the year-round population of around 30 manatees and the more than 1,000 that can come in from the Gulf on cold winter days. In 2015, Crystal River City, the State of Florida and two non-profit groups launched a program that is ongoing to vacuum out invasive algae and restore freshwater eelgrass.
The manatee population on Florida's Atlantic coast, along the Indian River Lagoon near Orlando, has not fared as well. Fall 2021 saw a drastic reduction in manatee numbers due to algal blooms from polluted waters that devastated seagrass beds. State and federal wildlife officials announced a special operation to hand-feed manatees romaine lettuce – an unusual move by conservationists who usually advise that wild animals do their own foraging so they don't become dependent on humans.
It serves as a stark reminder of the precarious state of these majestic creatures and makes me all the more grateful I had a rare opportunity to have floated, if not swum, with two of them.
How to see manatees for yourself
Explorida offers manatee tours year-round. While the highest concentration of manatees is in the winter months (manatee season is Nov. 15- March 31), you can still swim with manatees any time of year, as a healthy resident population lives in King's Bay.
Visitors can also go to the Crystal River National Wildlife Refuge, which consists of 20 islands in and around King's Bay, to watch the manatees from a boardwalk, as well as double-breasted cormorants, great blue herons and ospreys. Volunteer guides ensure visitors respect the rules and do not harass the birds and animals. "You can learn so much from manatees," says one volunteer. "They swim with the tide instead of against it."
Where to stay
Retreat at Crystal Manatee, 310 North Citrus Avenue, Crystal River. This small, family-owned boutique hotel with spacious, modern rooms in the heart of Crystal River is walking distance from many of the area's attractions, including the shops in the historic downtown featuring jewelry, glassware, home décor and other nature-inspired art. 
Where to eat
Vintage on 5th, where French cuisine meets southern comfort with an extensive wine list; Amy's on the Avenue for hand-crafted sandwiches and delectable desserts including key lime cake and pineapple crunch pie; Cattle Dog Coffee Roasters, locally owned and operated with more than 20 kinds of single-origin coffee.