No parent of sound mind and questionable body should consider, under any circumstances, travelling with children. By children, I refer to individuals that lack financial independence or toilet mastery, ranging in age from zero to 35. By travel, I refer to long flights, longer drives, and urban or wilderness excursions with uncertain outcomes. I know it's tempting to discover destinations as a family, bonding and building memories that last a lifetime. I agree that instilling curiosity and wanderlust in your offspring will likely make them more interesting, open-minded, grounded, and resilient.  But it's expensive and so much can go wrong:  injuries, illness, lost baggage, lost children, lost spouses. Does it make sense to travel with kids? No. Will you do it anyway and reap the rewards? Of course. 
Two new Canadian books explore the joys, challenges, and practicalities of travelling with children. A Gelato a Day, an anthology edited by Canadian Geographic contributor Claudia Laroye, gathers stories from some of Canada's top travel writers about their meaningful, wild, exotic and often funny family adventures.  
It's an insightful book that will inspire curious parents to put aside their fears and embrace the transformational, fun and educational possibilities of a big family adventure, in Canada and beyond.  Diane Selkirk takes her daughter sailing around the world, Jenn Smith Nelson reconnects with her teenage boy over birdwatching in Ontario's Ojibway Park, while Heather Greenwood Davis visits Alabama with her son to unpack the civil rights movement. Grant Lawrence introduces his young kids to scorpions in Costa Rica, Sabine Bergmann recalls her childhood adventures in the Amazon, and Lucas Aykroyd his family journey behind the mid-1980s Iron Curtain.  
My own contribution is about my first toddler vacation in Maui. "Every time I meet a parent in the knee-high, pee-warm toddler pool – beaches be damned – we share 1000-yard stares, shrug our shoulders, and let the giggles of our kids melt our hearts." At breakfast, my one-year-old rained buffet egg from his high chair, feeding half the bird-life of Hawaii.  Young kids, I write, are complicated algorithms dancing to a convoluted rhythm only they can understand. Yet for all the sleep deprivation and food waste, the road trip barf and flights from Hell, "it takes children to shake the complacencies from our travel," argues Bruce Kirkby in a wonderful opening essay. "Meaningful family journeys are widely regarded as myth; the unattainable dream of selfish parents, and a bloody nuisance for everyone else."  
Every writer in A Gelato a Day – the ploy Claudia Laroye used to incentivize her kids on a visit to Italy – would beg to differ. As with parenthood itself, it's easy to complain and describe the challenges of family travel, but a lot harder to share the wonder, existential joy and elation of watching kids interact with the world around them. A Gelato a Day is a rare treat for both parents and expecting parents, and does exactly that. Despite the many challenges of our first family trip to Hawaii – meltdowns, exhaustion, weird rashes – my wife and I were still inspired to shlep our young kids across Australia and Southeast Asia for a year. We did this because we believe in the power of adventure to foster curious, successful kids, and because we are insane.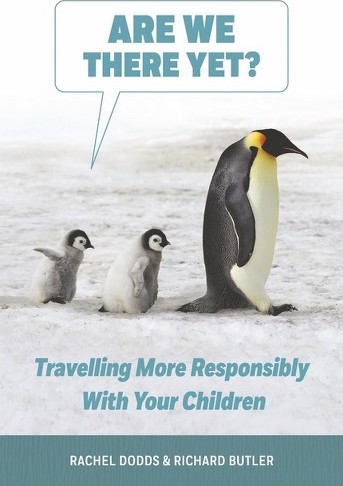 There's no manual for doing family travel right, but sustainability expert, Toronto Metropolitan University professor and full-time mom Dr. Rachel Dodds has worked hard to give us one. Together with academic tourism expert Dr. Richard Butler, their book Are We There Yet? encourages parents to travel more responsibly,  guided by real-world, step-by-step strategies. Complementing the essay format of A Gelato a Day, chapters in Are We There Yet? are loaded with bullet points of practical advice, interspersed with text boxes from parents who have blazed the trail. The book explores sustainable travel as a new parent, helping children become more resilient and mindful travellers, choosing the right destination and type of travel, packing, planning, road trips and activities. It also suggests useful print and online resources for sustainable travel across all ages, and has a handy phrase section to help you connect with locals in Chinese, French, German, Hindi and Spanish. 
"There are many blogs and articles about sustainable travel and travelling with children, and many give you lists of responsible things to do without explaining why or how you should do them," says Dr. Dodds, who has taken her ten-year old daughter to 18 countries. "With tourism's impact on communities and the environment, we put together a practical guide to help travelling families become part of the solution, not the problem."
The pandemic opened up new possibilities for remote working and schooling, allowing parents to earn an income from the road while educating their kids both formally and culturally. As a result, more parents are booking longer family adventures because we know the experience is priceless, and the opportunity short-lived. We're also chasing the authentic and meaningful connections that lie beyond manicured posts and boasts from family travel influencers. Don't trust anyone who says it's easy to travel with the kids. You're in for the adventure of a lifetime, and it shouldn't, or couldn't, be any other way.    
Click on the links to order A Gelato a Day: True Stories of Family Travel and Are We There Yet?