There aren't many 44-hour journeys that will put a smile on people's faces, but when Via Rail train 692 finally pulled into Churchill, Man., on Dec. 4 — 18 months after flooding cut off the only land link to the community on the shore of Hudson Bay — that was the result.
Canadian Geographic Travel sent Winnipeg-based photographer April Carandang to document the 1,700-kilometre trip and what it means to the people who made it.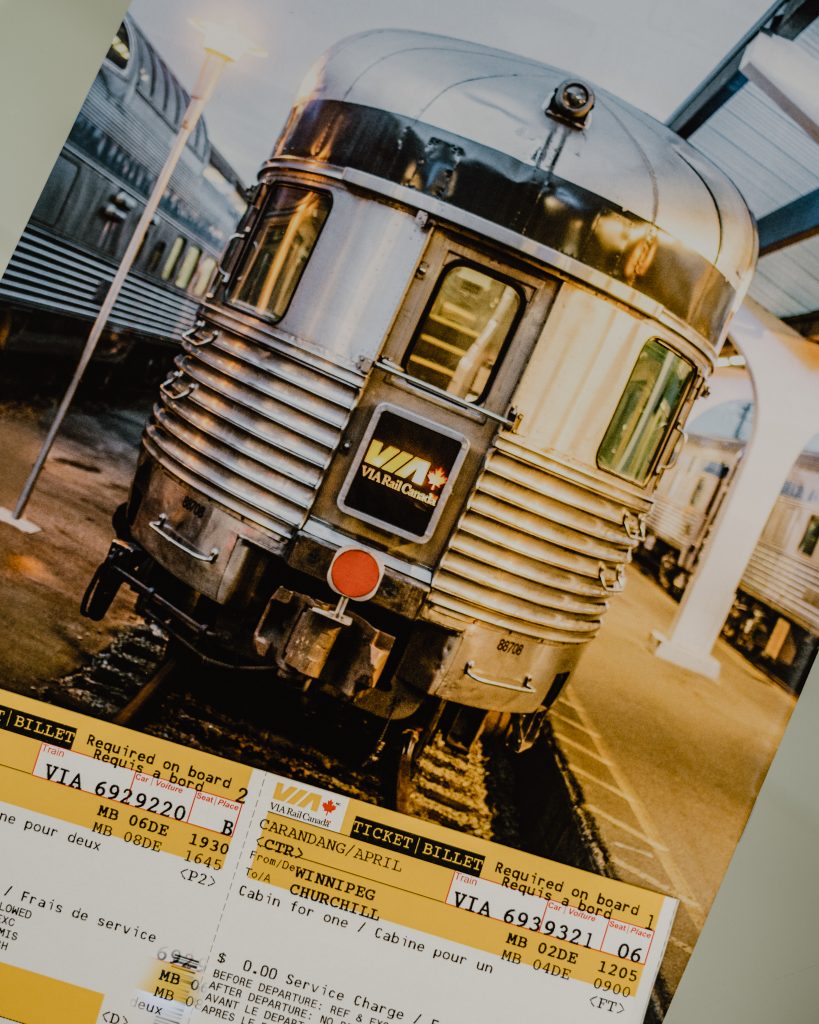 April Carandang's Via Rail ticket for the journey from Winnipeg to Churchill. The train left Winnipeg on the afternoon of Dec. 2, 2018, marking the resumption of a service that had been suspended since 2017 after severe flooding washed out parts of the track. 
Ron Grapentine (above right) chats with a reporter in the Winnipeg train station prior to boarding the train to Churchill. Grapentine, a retired rail worker, said he was excited about the reestablishment of the connection between Manitoba's capital and Churchill. 
Doug Belcher (above) has the Skyline dome car all to himself shortly after the train departs Winnipeg. "I wanted to get on the first train to go up in Churchill after the shutdown," said Belcher, a retired conductor, when asked why he was making the journey. "I just wish it happened sooner. It's something good for the people up North."
Passengers settle into the Skyline dome car to take in the views during the trip to Churchill (above). The dome's windows are made of multi-layered laminated glass and are about 20 times stronger than a car windshield. Just about the only thing that's going to get through them is sunshine, which has lulled more than one passenger into committing a cardinal sin of travel on Via Rail: falling asleep in a dome car seat. 
Colleen Smook (above, holding paper), the mayor of Thompson, Man., talks to passengers in the city's train station as they wait to board the train to Churchill. Smook is delighted that the route is back in operation. "The economic impact of the train service benefits Churchill and Thompson," she said, adding that tourists often will fly to Thompson then take the train to Churchill.
A view of the track and surrounding wilderness (above) shortly after the train pulled out of Thompson and continued to Churchill, where people are hopeful that life will get back to normal after their community's only land link to the south was severed. "It's a new day for Churchill," said David Chadwick, who does consulting work for the Town of Churchill and was a passenger on the train. "Tourism will pick up again. People who left town may come back. Construction projects worth millions that went on hold since the washout will be able to resume." 
Denis Devigne, an onboard service attendant with Via Rail, watches as a puppy walks around the cargo car after being let out of its crate (above). 
"It's a new day for Churchill. Tourism will pick up again. People who left town may come back. Construction projects worth millions that went on hold since the washout will be able to resume."

David Chadwick, consultant
Devigne picks up the puppy in attempt to get it to pose for a picture (above). "It's exciting," he said of the journey to Churchill. "We're connecting communities that didn't really have easy access to each other. Now that the train is running again, people can visit their families and get the services and goods that they need." And puppies, of course. 
Michael Woelcke (above), the general manager of regional services at VIA Rail, gazes out the window as the train continues to Churchill. Like Denis Devigne, he knows that the train is about more than simply getting tourists to Churchill; it allows people from the town to travel south to communities along the railroad where they have family and friends. "They can't afford to fly," he said, "and the train is an affordable way to travel along the bay line."
Lena Spence-Hanson (above) laughs during the journey to Churchill, where she will visit her three-month-old grandson. Spence-Hanson boarded the train in Gillam — "I always say I'm from Chillam," she says proudly, "because I'm from both Churchill and Gillam" — and is happy the service to Churchill has resumed. "When it was shut down, it hurt families. I couldn't visit as often because I went from paying $33 for a train ticket to paying $900 for a plane ticket."
Doris Reid (above), who boarded the train in The Pas, looks at an old picture of her and her late husband, Norman, a retired Via Rail ticket agent who died in April 2018 and was born and raised in Churchill. "I'm doing this trip in honour of him — it's part of my recovery process," she said. "And I know he would have put me on this train anyway." Reid said her plan upon arriving in Churchill was to walk the streets where her husband had grown up. "We were married 48 years. I'm going to relive his memories."
Passengers and locals crowd the platform at the Churchill train station after the train arrives on the afternoon of Dec. 4 (above). Residents of Churchill came to the station to see the train, welcoming its crew and passengers with cheers and bells. 
Passengers and train station staff watch as goods and cargo — including a chair in the shape of a high-heeled shoe — are unloaded from the train in Churchill (above). With the service between Winnipeg and Churchill running again, anyone can send cargo via the rail link — a considerably cheaper option than having items flown into and out of town. 
Lena Spence-Hanson (above right) hugs one of her family members on the platform at the Churchill train station.