"Go! Go! Go!"
That's my cue to hold onto my mask and snorkel and take a big flipper duck step off the stern of the boat into the 28-degree Indian Ocean. It's April and the water is slightly murky with the annual coral spawn that creates a rich feeding ground for a roll call of migratory creatures, like the nine-metre behemoth that slowly looms out of the blue in front of me.
I gasp and bite down on my mouthpiece, but the whale shark, a gentle giant, just drifts by, his mouth open to filter-feed on microscopic plankton. His back sparkles with sun-lit white speckles as our small group of snorkelers trails behind, furiously beating our flippers until we can't keep up. Then the boat collects us, overtakes the whale shark or spots another and drops us back in the ocean again.
Throughout six breathtaking snorkel-swims with three different whale sharks, the world's biggest fish just carry on as though we don't exist while we repeatedly scramble on board, panting and vibrating with adrenalin.
Whale sharks can reach lengths of 15 metres and weigh 11 tonnes. They are found in deep waters around the world, but nowhere do they appear as predictably or as close to shore as Ningaloo Reef off the coast of Western Australia, 1,280 kilometres north of Perth.
This is a spectacular region called the Coral Coast, where the red dirt of the outback meets the bright blue Indian Ocean. From the hills and gorges of Cape Range National Park through the waters of the 250-kilometre-long Ningaloo Reef Marine Park, this combined area is also a UNESCO World Heritage Site. Though less well known than Australia's Great Barrier Reef, Ningaloo's corals and sea life are not only in better condition due to a deep Antarctic current, but as a coastal fringing reef it is much more accessible for snorkelling, diving and swimming with whale sharks from March through July.
After my whale shark encounters, I head to the hilltop Vlamingh Head Lighthouse to watch the sun set into the ocean over a glass of chilled wine. "In August I come up here to watch the humpbacks go by," a rancher leaning on his truck with his sheepdog at his feet tells me. "There are hundreds of them and dozens jump at once. It's a magical humpback highway!"
After a three-year trial run that began in 2016, the Australian government has approved snorkelling with some of the 30,000 humpback whales that migrate past the reef from July through October. I immediately add another "must do" to my bucket list.
The best time to visit the Coral Coast is during Aussie fall and winter — late March through September — when it's dry and sunny with temperatures ranging from 20 to 30 C. The rest of the year is a cyclone-riddled wet season, hot and muggy.
The heart of the region is the North West Cape, a peninsula jutting into the sea. Exmouth (population 2,300) is the main town here, with a funky, laid back vibe and a strong surf and dive culture. Though it's just a two-hour flight from Perth, I've driven the spectacular coastal Route 1 in the past, a great Aussie outback road trip. To encourage the adventure, once-exorbitant one-way rental car drop fees have recently been slashed.
Exmouth is a true outback town. Drivers must heed emu-crossing signs, as the strutting birds are everywhere, on the main road and drinking from backyard birdbaths. Harmless perentie lizards, which can reach lengths of up to 2.5 metres, are frequent guests on front lawns.
Though there is a remote luxury glamping resort, Sal Salis, on the national park dunes by the sea, I make Exmouth my base, spending my days kayaking or drift-snorkelling at nearby white sandy beaches like Turquoise Bay where I spot rays, giant clams, clown fish and turtles just 10 metres from shore.
I also go scuba diving at one of Australia's most amazing locations, an abandoned 1964 U.S. Navy Pier whose 12-metre-deep pylons and cross bars are encrusted with brilliant corals. There are clouds of lionfish, giant groupers, barracuda, parrotfish and comical wobbegongs (shaggy carpet sharks with tassels dangling in front of their mouths). Small wonder it ranks in the country's top 10 dive sites.
Exmouth is a true outback town. Drivers must heed emu-crossing signs, as the strutting birds are everywhere, on the main road and drinking from backyard birdbaths. Harmless perentie lizards, which can reach lengths of up to 2.5 metres, are frequent guests on front lawns.
Swapping flippers for hiking boots, I head off for day hikes into 50,000-hectare Cape Range National Park, a low limestone ridge that was once an ancient reef but has been carved by the elements into canyons with names like Charles Knife and Shothole. I spot rock wallabies, goannas, echidnas and some of the park's 100 bird species, many of them jewel-coloured. The most spectacular views are from a guided boat tour through Yardie Creek's sheer cliffs.
In the evenings I join the lively company at Exmouth's Froth Craft Brewery or sample the great seafood, from northern Barramundi (a white fish) to local scallops, oysters and soft shell crab, at the Wharf Restaurant.
One early morning I head for Coral Bay, the peninsula's second town, 150 kilometres to the south. The low dawn light sets aglow the surreal sight of countless bright red termite mounds – some five metres high – dotting the flat red landscape. All manner of creatures are out scouring for breakfast: kangaroos, emus, a pair of dingoes, even "brumbies" – wild horses – which are a rare sight. And in the gum trees lining dry water holes are thousands of shrieking white parrots.
I'm heading for one of the highlights of my trip, three days aboard a 17-metre live-aboard sailing catamaran, the Shore Thing. With only four guest cabins, we are a small group of snorkelling addicts and we spend hours in the water every day with our expert fish guide, Hayley Mitchelmore, who takes us on one submarine adventure after another, pointing out a pod of giant ocean-going manta rays with wingspans that can measure six metres across. We drift on currents over forests of shallow stag horn coral and watch a busy cleaning station where sharks have their gills freed of annoying parasites by small fish.
Boat owner Luke Riley is at the helm and we help raise the sails to glide over turquoise waters while multi-course dinners are prepared in the galley. Early on my final morning, Luke ferries me ashore at Maud's Landing with my mug of coffee. Apart from a swirling kaleidoscope of seabirds riding the currents above me, I have a long crescent of white sand beach all to myself.
Difficult as it is to disembark from the Shore Thing, with its warm, casual ambiance and daily fresh seafood gorging, I am also looking forward to one final outback experience, a perfect contrast to my sea trip: overnighting on 100,000-hectare Bullara Station, whose third generation family-owners Edwina and Tim Shallcross run 3,500 head of cattle as well as charmingly outback-chic accommodations, including bush camping under the eucalypts.
As Edwina walks me to my room she tells me about the annual mustering event that guests can experience, a dramatic round-up of the vast ranch's cattle using horses, motorbikes and helicopters. En route to the rustic outdoor bucket shower, we pass small kangaroos called euros resting in the shade. A flock of sheep dutifully follows us. "The dark one is Brownie, and the bush turkey over there is Charlie," she explains. "And if you want to hike to the dunes, take a left at the Model T and follow the trail."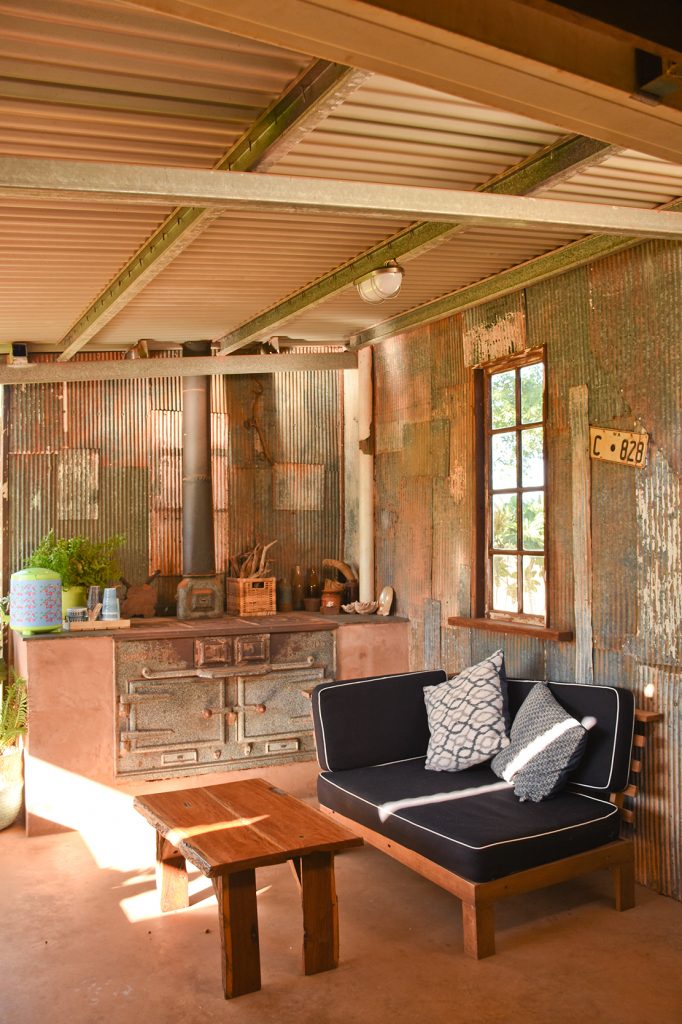 I poke around the old sheep shearing shed that is now a rustic bar, then walk towards a cluster of rusted vintage cars strewn among the eucalypts. Sure enough, the Model T is there, a landmark that leads me to a spectacular rolling landscape of bright red sand dunes. 
I dine in the main ranch house with Tim, Edwina and a few other guests on barbecued steak from their own cattle and sip stellar red wines from the Margaret River, one of Australia's prize wine-growing regions just south of Perth. 
Around the campfire that evening, I meet John Fozard, or "Damper John." He's saved me some warm damper, a frying-pan bannock-style bread baked over an open flame then smothered in butter and jam. A retired long-time guest, John drives 4,500 kilometres every April from his family home near Melbourne to Bullara, where he has become part of the ranch family. Then, every October, he gets back in his Winnebago and drives home.
As crickets chirp in the dark, John cracks us both frosty beers and raises his toward a clear black sky where the bright blanket of Milky Way stars looks like the speckled back of a massive whale shark. "This right here," he proclaims earnestly, sweeping his hand around, "is the real dinky-di* Australia."
* Australia : loyal, true. 2 Australia : dinkum.
Based in Quebec's Eastern Townships, Margo Pfeiff is a freelance journalist and photographer whose work has appeared in Reader's Digest, Canadian Geographic, Cottage Life, the Los Angeles Times and many other publications.