Canadian Geographic Adventures is proud to showcase Exodus Travels, a Designated Travel Partner and industry leader in small group, positive-impact tourism around the world. Travelling courteously and respectfully to ensure every one of our tours is a beneficial experience for everyone involved is a cornerstone of our product. This is a philosophy we take with us wherever we go, helping guests reach incredible destinations on over 600 itineraries across 100 incredible countries. Led by renowned explorers, authors, photographers, and Fellows of the Royal Canadian Geographical Society, this curated collection of trips with Exodus Travels and Canadian Geographic Adventures will bring Canadians to the furthest reaches of the globe.
This limited-edition lineup of 2022 and 2023 small group trips are certain to answer the call of adventurous spirits looking for opportunities to challenge themselves and expand their perspectives. From the mysterious Valley of the Kings and spice-scented lanes of Marrakesh, to the ancient cities of the Kathmandu Valley and annual migration of wildebeest and zebras in Kenya, these adventures are designed to satisfy the innately curious and intrepid traveller.
2022 Adventures
Egypt
Alexandria to

Aswan with George Kourounis
With temples and tombs around every corner, astonishing history awaits travellers on this 5-star Exodus Classic. Spend 13 days exploring the mystery and magic of Egypt, led by renowned filmmaker, photographer, and RCGS Explorer-in-Residence, George Kourounis. Swap travel and expedition stories, learn about Kourounis' work with National Geographic, and pick up new photography techniques and skills.
From the Pyramids of Giza and the Great Sphinx, to the fresh seafood of Alexandria, desert sunrise in Abu Simbel, and 3-night river cruise ship down the Nile—fall in love with the history and beauty of Egypt all while accompanied by George, there every step of the journey to offer historical and geographical context.
13 days from $4224 CAD
Departing March 25, 2022
Learn more
Morocco
Highlights of

Morocco with Aliya Jasmine
Accompanied by award-winning reporter and television producer, Aliya Jasmine, discover the exceptional and unexpected in Morocco. A natural storyteller, Aliya has traveled the world and has reported on post-civil war Sudan; the potential impacts of a proposed pipeline in Canada's Great Bear Rainforest; and the 2010 earthquake in Haiti for Discovery Channel. Aliya has countless stories and insights to share throughout your two weeks in this magical corner of the world.
Make your way through the majestic cities of Marrakesh, Meknes, and Fez before exploring the sand dunes and kasbahs of the southern mountain ranges. Take a camel ride in the Sahara and spend the night in a Bedouin camp; explore striking villages in the High Atlas Mountains; visit desert oases and palm groves; and stroll through artisans workshops alongside stunning beaches and perfect surf in the fishing port of Essaouira.
15 days from $3033 CAD
Departing September 18, 2022
Learn more
Albania
Highlights of

Albania with John Geiger
Gargantuan, snow-capped mountains, inviting beaches, pastoral rural villages, and an exceptionally friendly welcome is what awaits in Albania. Not until 1991, with the collapse of the People's Socialist Republic of Albania, did the world get its first glimpse at the country within.
This adventure will offer travellers a firsthand look at this previously isolated country accompanied by international bestselling author, dynamic lecturer, and CEO of the RCGS, John Geiger. John has been featured on countless television and radio programs, as well as documentary films such as National Geographic's The Angel Affect, which was based on one of Geiger's many exploration themed books, so you can be sure he has endless anecdotes, insights, and stories to share.
Experience the diverse range of cultures and landscapes of Albania, from the artist havens in Voskopoje, sweeping panoramic views of the Gramos Mountains, ancient Greek sites in Llogara National Park, and the narrow-cobbled streets of UNESCO-listed Berat. Relax and enjoy the famous food and wine of Permet, visit crumbling castles in Korce, and follow in the footsteps of Julius Caesar at the site where his battles against Pompeii were won.
10 days from $2464 CAD
Departing July 5, 2022
Learn more
Kenya
Kenya Photography

Safari with Scott Forsyth
Seeing Kenya through the lens of celebrated RCGS Photographer-in-Residence Scott Forsyth, travellers will truly experience a unique and immersive African safari. Scott's innate curiosity, combined with his passion for the natural environment, makes him the perfect host for this sublime and stunning experience. Every step of the way Scott will be available to help you capture and commemorate the stunning landscapes and iconic wildlife of Kenya.
In addition to the white rhinos and elusive leopards of Lake Nakuru National Park, and the hippos and bright flamingos along Lake Naivasha, travellers will observe one of nature's most breathtaking displays: The Masai Mara's Great Migration. Watch thousands of wildebeest and zebras crossing a river overrun with crocodiles on their annual journey through the savannah.
7 days from $5788 CAD
Departing September 11, 2022
Learn more
2023 Adventures
Nepal
Annapurna and

Chitwan in Luxury with Javier Frutos
Trek in Nepal's Annapurna foothills, from the comfort of luxury lodges. From a city tour of ancient Kathmandu to game viewing in Chitwan, this trip showcases the best of Nepal. The highlight is a short trek in the Annapurna foothills, surrounded by magnificent Himalayan mountain views and passing through traditional villages. Using luxury lodges, we offer a higher standard of comfort than is normally available on trek, and this premium tour also includes upgraded accommodation in Kathmandu, Pokhara and Chitwan. With comfort in mind, we fly back from Chitwan to Kathmandu. 
Other highlights of this 13-day tour include a dugout canoe ride down Chitwan's Rapti River in search of crocodiles, a chance to spot rhinoceros and birdlife on a jeep safari and bird-watching walks in Chitwan, and discovering beautiful Pokhara, nestled on the shore of Lake Phewa in the shadow of the Annapurna Range. 
Your Ambassador on this trip is acclaimed photographer and Canadian Geographic's creative director, Javier Frutos. From the Alps to Antarctica, penguins to porpoises, Javier has explored and photographed many of the world's most beautiful and often unseen moments. Javier will share tips on how to truly capture that once-in-a-lifetime moment.
13 days from $6,279
Dates TBD
Learn more
Related stories from Can Geo Travel
Walking Tuscany's Via Francigena
Following in the footsteps of pilgrims on Tuscany's Via Francigena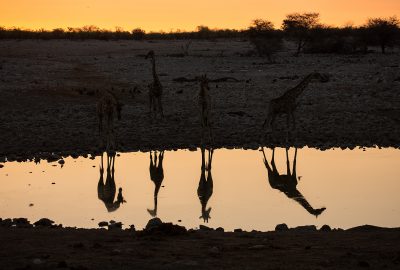 Stunning photos of Namibia and Botswana
Stunning photos of Namibia and Botswana